GE: Don't call it a comeback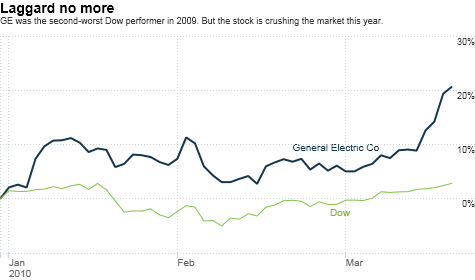 NEW YORK (CNNMoney.com) -- Has Jeff Immelt finally made General Electric investors forget the legendary Jack Welch?
That's a stretch -- investors can no longer count on GE beating estimates and posting double-digit earnings growth in good times and bad.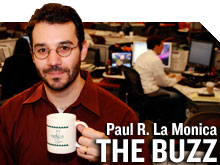 But the current GE (GE, Fortune 500) CEO -- and the company's shareholders -- finally have a lot to smile about.
GE, which was the second-worst performer in the Dow last year, falling nearly 7%, has staged a remarkable turnaround. The stock is up 20% in 2010, the second-best Dow component behind Boeing (BA, Fortune 500).
Is the rally justified? Perhaps.
GE's biggest problem in 2009 was its GE Capital financing unit, which was hit hard by the credit crunch. Profits at GE Capital plummeted 73% last year.
But as the credit markets have improved, so has the situation at GE Capital.
Oppenheimer analyst Christopher Glynn wrote in a report last month that it looks like GE Capital has written off the bulk of its lowest-quality assets and loans. With that in mind, he said "odds are increasing for potentially unexpected positive developments within 2010" from GE Capital.
(Heck, even GE's small-business lending rival CIT (CIT, Fortune 500) is on a hot streak after emerging from bankruptcy.)
Another issue close to being resolved is the fate of GE's struggling NBC Universal media division. GE has a deal to sell a controlling stake in the unit to cable giant Comcast (CMCSA, Fortune 500).
In addition, executives at GE are starting to grow slightly more optimistic. GE CFO Keith Sherin told investors at a Goldman Sachs conference Tuesday that the company was likely to raise its dividend sometime next year. The company slashed its dividend by 68% in February 2009.
Even some of the biggest GE bears are warming up to the stock. On Wednesday, Nicholas Heymann, an analyst at Sterne Agee who had a "sell" recommendation on GE, upgraded that rating to "neutral."
That, of course, is hardly a ringing endorsement. Heymann said he is still concerned that regulators might force GE Capital to become a bank holding company, a move that would subject GE to more stringent capital requirements.
And some wonder if the rally in GE has come too soon. After all, Sherin said GE may raise the dividend next year, not this year. He also pointed out on Wednesday that profit growth in 2010 should be flat.
"I can't find any reason to get impressed with GE. The company said it's going to raise its dividend next year, but didn't say exactly when or by how much," said Kent Mergler, chairman of Northstar Capital Management, a Palm Beach Gardens, Fla., investment firm that owns a small stake in GE but has not bought any recently.
Heymann went a step further, suggesting in his report that investors may be banking on a return to "normalized" earnings that won't take place until 2012.
"Despite our rating upgrade, we continue to believe improvement In GE's fundamentals Is not imminent," Heymann wrote.
Still, others point out that it's a mistake to wait too long to buy GE.
"While it is more of a bet for 2011, there are good reasons to get behind the stock now. There's more news about the economy getting better, and a compelling case that earnings will start to grow again," said Daniel Holland, an equity analyst with Morningstar in Chicago.
Holland points out that it's easy to forget about the businesses at GE that held up relatively well during the recession and should continue to generate robust results in the next few years -- especially abroad.
GE's technology infrastructure business, which makes healthcare equipment and jet engines, and its energy infrastructure business, a big player in the wind turbine market, accounted for nearly three-quarters of GE's overall profit last year. Holland thinks those two units should benefit from improving demand for equipment as the global economy recovers.
That the darkest days should be behind GE Capital also helps the outlook for the stock, said Holland. As does the deal for NBC Universal, a distraction even though it was never a major part of GE's overall business.
"NBC got more attention proportionately than what it deserved. Moving away from businesses that don't make strategic sense for a true industrial company clears the picture for investors," Holland said.
Still, the biggest problem facing investors right now is whether GE remains a good value after its big move. At 18 times 2010 earnings estimates, the stock looks expensive given that profits are expected to be flat this year.
Heymann concedes that if everything goes right for GE, profits could improve modestly in 2011 and surge in 2012. That's why investors are buying the stock, he said. But he calls this an "aspirational" belief.
So consider yourself warned. Aspirations, hopes and dreams often don't pan out.
- The opinions expressed in this commentary are solely those of Paul R. La Monica.