Health care: Patients, doctors, insurers react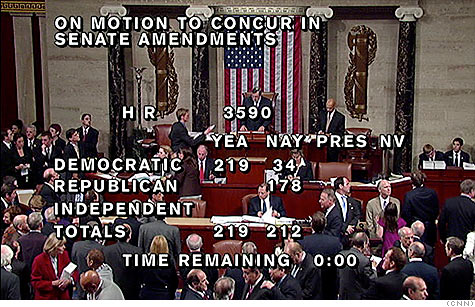 NEW YORK (CNNMoney.com) -- The House's approval of a measure to reform and revamp the nation's health care system was praised Monday by consumer groups, given mixed reviews by doctors and got a thumbs down from insurers.
Here's how all sides in the health care system responded to the vote:
Consumer groups: Consumer advocacy groups were generally pleased with the measure.
"This is an enormous achievement that will provide huge benefits to families across the country," said Ron Pollack, executive director of consumer advocacy group Families USA, who said his organization has been "flooded with e-mails and phone calls about this historic victory."
Pollack said the legislation makes sure health care is affordable and that people won't lose their coverage if they get sick or have a pre-existing condition.
"This legislation will curb insurance company abuses that have plagued too many families," he said. "When you look back at history, the only events that rival this success are the Social Security Act of 1935 and the Medicare and Medicaid Act of 1965."
Medicare tax hikes: What the rich will pay
Doctors weigh in: Some of the nation's leading physician groups called the new health care legislation a step in the right direction, but said that it still does not address all of their concerns.
The American Medical Association (AMA), the largest physician group, applauded new measures to increase payments for primary care physicians caring for Medicaid patients and give bonus payments to physicians who work in underserved areas.
"Those who have insurance will see improvements right away: lifetime caps on coverage end, children can stay on parents' policies until age 26, and insurance companies can't cancel coverage except in the case of fraud," AMA president Dr. James Rohack, said in a statement Monday.
At the same time, he lamented that the legislation does not repeal the Medicare physician payment formula that threatens to cut what doctors receive from the program.
Dr. Lori Heim, president of the American Academy of Family Physicians, said she was mostly pleased with the legislation.
"Our health care system has so many significant problems that no one legislation will rectify then in one fell swoop," Heim said.
She particularly liked a 10% increase in Medicare payments to all primary care physicians for certain services, including preventive visits, management of new diagnoses and related follow-up visits and management of acute medical problems.
However, Heim pointed out flaws not addressed, including malpractice reform, controlling costs and shifting the system to be more focused on patient outcome and not the number of procedures performed.
The American Academy of Pediatrics (AAP) said the legislation addressed most of its concerns.
From a coverage standpoint, the group said the measure comes closer to providing health care to every child in America, although families without legal documentation will still be barred from coverage unless its emergency care.
Under the new measure, insurers can no longer charge customers a co-payment for preventive visits, which include routine check ups and vaccination visits, until the age of 21.
However, one of the biggest concerns for the AAP is that Medicaid payments to providers typically are lower than what Medicare pays providers for services that are comparable. The AAP hopes the Senate will later this week pass a fix in a reconciliation bill that would put Medicaid payments on par with Medicare for comparable services.
Insurers react: America's Health Insurance Plans, the group representing nearly 1,300 member companies, said the legislation doesn't go far enough in addressing escalating health care costs and improving the quality of care.
"Last summer there was a dramatic shift. It went from health care reform to health insurance reform," said Robert Zirkelbach, spokesman for AHIP. "Overall, the legislation takes an important step in getting more people covered but it is off base in bringing [health care] costs under control.
Zirkelbach said the new measures will raise costs for families and small businesses.
He said the measure imposes "tens of billions of dollars in new taxes on insurance providers, pharmaceutical companies and medical device makers."
"All this will increase the cost of coverage. At the same time, very little in the legislation changes the problems with how care is delivered," he said.