Dollar softens vs. euro on Greece hopes
NEW YORK (CNNMoney.com) -- The dollar fell against major currencies Monday as the euro continued to strengthen on last week's announcement that European Union leaders will aid debt-stricken Greece if necessary.
What prices are doing: The dollar lost ground against the euro, falling 0.5% to $1.3479. The greenback also slipped 0.6% against the British pound, trading at $1.4983.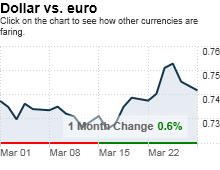 The dollar was little changed versus the yen at ¥92.47.
What's moving the market: Last week, European Union leaders met at a summit in Brussels and approved an emergency bailout plan that could be used to rescue the Greek economy. The aim is to contain Greece's crisis and prevent it from snowballing across Europe.
The bailout would include money from euro zone members, but it also could involve substantial funding from the International Monetary Fund. The accord helped boost the euro, but gains were rather muted.
What experts are saying: "The euro is indeed benefiting from easing of tensions surrounding Greece, but the moves aren't particularly large," said Vassili Serebriakov, currency strategist at Wells Fargo.
He noted the euro "really bounced overnight," but the currency struggled to fully sustain those gains in regular trading Monday.
"That's an indication of weak sentiment on the euro overall," Serebriakov said. "We're still negative on the euro in the short and medium term."