Massey Energy stock sinks 11% after mine explosion
NEW YORK (CNNMoney.com) -- Shares of Massey Energy plunged over 10% Tuesday, one day after an explosion at one of the company's coal mines in West Virginia killed at least 25 workers and left 4 missing.
The blast took place at the Upper Big Branch Mine, about 30 miles south of Charleston, during a shift change Monday afternoon.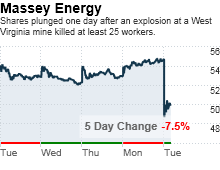 Shares of Massey (MEE) tumbled 11.4% to close at $48.45 on Tuesday. Still, the company's stock is up almost 20% year-to-date. Richmond, Va.-based Massey operates 44 mines, making it the fourth-largest U.S. coal company.
The cause of the explosion, the deadliest U.S. mining disaster in 25 years, was unknown Tuesday.
Massey was previously fined for violations at the Upper Big Branch and other mines, said David Lipschitz, a senior analyst at Credit Agricole Securities.
"Massey has probably had more fines and other issues than its competitors," Lipschitz said.
He expects the disaster will hurt only the company's 2010 earnings. Even if the Upper Big Branch mine is shut down for nine months or a year following the accident, he doesn't expect it to affect the bottom line in 2011 or 2012.
The stock should bounce back in the coming weeks, Lipschitz said, just as it did following a dip that occurred after a 2006 mine fire that killed two workers.
"The price will lag for a few days as people absorb the tragedy," Lipschitz said, "but we'll soon get back to focusing on strong market fundamentals."
The company said it will not be providing any comment on the accident right now, since all information is being coordinated at the site and it is focusing on recovery and the families.
Past violations
Although it's not clear what caused Monday's blast, Davitt McAteer, former director of the Mine Safety and Health Administration during the Clinton administration, told CNN Tuesday the company's safety record was "checkered."
For its part, Massey claims on its Web site to have one of the best records of any coal company.
Three other deaths have occurred at Upper Big Branch in the past 12 years, and the mine has been cited for several safety violations.
Records compiled by the Mine Safety and Health Administration show that proposed penalties assessed against the mine reached nearly $1 million last year -- three times more than any other year on record.
Last year, the mine also had more than 50 "unwarrantable failure" violations, which are among the most serious findings an inspector can issue. Among those were citations for escape routes for miners and air quality ventilation. The company has been fined for several incidents at its facilities, some of which were fatal.
"What that suggests to you, just on the face of it, is that there are problems here, and the problems are not being addressed," he said. The size of the blast, he added, suggests a large accumulation of methane that "shouldn't be allowed to accumulate in that volume."
The 2006 fire occurred at the Aracoma Alma No. 1 Mine in Logan County, W. Va. Two years after the accident Massey agreed to pay $4.2 million in penalties, the largest settlement in industry history, for safety violations including inadequate water supply to the fire hoses.
More scrutiny ahead
Other analysts said the regulatory run-ins and political climate in Washington could prove problematic for the company in the wake of this tragedy. The top two federal officials that regulate mine safety once worked for unions, said Kevin Book, a managing director at ClearView Energy Partners, a Washington, D.C.-based policy research firm.
"Massey Energy has historically taken a strong anti-union stance," Book wrote in a research note Tuesday, outlining possible political outcomes of the mine disaster. "This could increase prospects that [federal regulators] might target Massey for scrutiny or strong regulatory response without attacking the industry across the board."
Book also said the industry as a whole could be subject to congressional hearings and stricter regulations following Monday's disaster. The 25 deaths renewed calls for tighter regulations and steeper fines among some members of the coal community.
Massey Energy has been cited for environmental violations as well.
In January 2008, Massey paid $20 million in fines for Clean Water Act violations at coal mines in West Virginia and Kentucky. The Justice Department and U.S. Environmental Protection Agency said it was the largest civil penalty in EPA's history levied against a company for wastewater discharge permit violations.
The complaint, filed in May 2007, alleged that Massey violated its Clean Water Act permits more than 4,500 times between January 2000 and December 2006. The government said Massey discharged excess amounts of metals, sediment, and acid drainage into bodies of water in West Virginia and Kentucky -- some at levels more than 10 times over the limit.
-- Additional reporting by the CNN Wires staff and Steve Hargreaves, CNNMoney.com senior writer.