What now for Eliot Spitzer?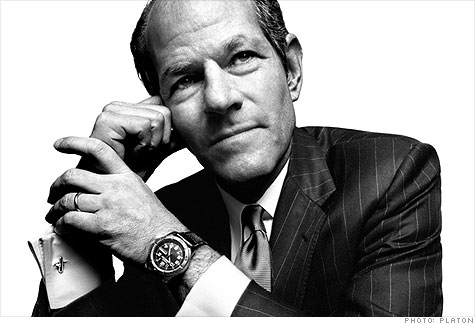 (Fortune) -- Fortune editor at large Peter Elkind spent almost two years working on his new book, Rough Justice: The Rise and Fall of Eliot Spitzer, due out from Portfolio April 20. An exclusive excerpt of the book will appear in the next issue of Fortune and on Fortune.com. Elkind recently interviewed Spitzer again about his plans for the future--including a possible return to politics.
Two years after resigning in disgrace, Eliot Spitzer is back in the spotlight: writing columns, giving TV interviews, making speeches. It's a little like his first big political setback, when, upon losing a run for New York attorney general in 1994, he became a talking head on Geraldo and Hannity and Colmes.
This has prompted speculation about a comeback, generating tabloid headlines that he had plans to run for office in 2010. For months Spitzer dismissed such speculation, saying he couldn't put his battered family through it. But now, even as he protests, he declines to shut the door.
"I love politics," Spitzer told me on March 31. "The substance, the debate about the issues ..." As for a race in 2010? It is "just hard to see," he says. But he adds, "I've never said I would never consider running for office again."
We met at 6:30 p.m. at a bistro a couple of blocks from Spitzer's Fifth Avenue apartment. The former governor had spent the day taking his middle daughter, a high school junior, to visit Princeton, his alma mater.
Spitzer writes a twice-monthly column for Slate, excoriating Democrats and Republicans alike, and teaches a class at City College. He says he is "loving" his lower-pressure life.
But he also says he is "in unceasing agony" and "incredibly frustrated" over no longer being "where I would like to be" -- finishing his first term as governor of New York. "Anybody who says disengaging from it in any way is easy is not being straightforward," he says. "Obviously, removing myself the way I did is that much more painful."
Spitzer muses with friends and advisers about political targets. He views New York's U.S. Senator Kirsten Gillibrand as a lightweight. In the office of New York state comptroller, he sees a chance to become a national force, wielding the billions held in public pension funds to force corporate reform in a way that even lawsuits and regulation cannot. ("It is the great underutilized position in government right now," says Spitzer.)
He could instantly tap $10 million from his family real estate fortune to bankroll a race. Bloody as it would surely be, he might jump in -- this year or later -- if he senses an opportunity and his family gives him the green light.
But for now he's speaking out to defend his legacy, he says, and to contribute on issues he cares about. "Other than the obvious agony, life is great," he says. "Right now, I can tell you I have a family that is in one piece ... That's a measure of success after what we went through."
"I made an egregiously horrendous judgment at every level," he adds. "Not just in terms of the risk/reward calculus, which seems like a very antiseptic way of thinking about it, but also in terms of what it meant to my family. I talk all the time about fiduciary duty. What more fundamental duty is there than to a spouse?"
Spitzer takes comfort in the belief that he was right about the perils posed by an unregulated Wall Street. But he is a bit less eager these days to cast his business adversaries as villains. I ask him how he feels, for example, about seeing former AIG (AIG, Fortune 500) chief Hank Greenberg restored to a state of public grace. Says Spitzer with a grin: "I'm all in favor of rehabilitation."