Stocks soar to major milestones
NEW YORK (CNNMoney.com) -- Stocks rallied Wednesday, with the Standard & Poor's 500 and Nasdaq composite indexes crossing significant milestones for the first time in more than a year and a-half, after quarterly results from JPMorgan Chase and Intel and strong retail sales figures.
The Dow Jones industrial average (INDU) surged 104 points, or 0.9%, to end at 11,123.11, the highest level since September 2008. Financial and tech shares led the advance.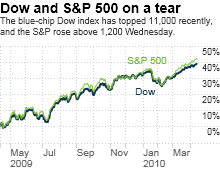 The S&P 500 index (SPX) gained 13 points, or 1.1%, to close at 1,210.65, marking the first time the index has closed above the 1,200 mark in almost 19 months.
The Nasdaq composite (COMP) added 39 points, or 1.6%, to end at 2,504.86. It was the first time since June 2008 that the index has ended above 2,500.
Year-to-date, the Dow is up 6.7%, the S&P has gained 8.6% and the Nasdaq has soared 10.4% as of Wednesday's close.
The S&P is up 77% from its March 9, 2009 low. However, the index remains 23.5% below the record high set Oct. 9, 2007.
"We were bumping against the 1,200 mark, as close as 1,199, and then backing down," said Art Hogan, chief market strategist at Jefferies & Co. "Crossing that barrier was notable."
The blue-chip Dow and Nasdaq touched fresh 18-month highs Tuesday after slight gains.
"We had an embarrassment of riches today as far as good news goes," Hogan said.
Earnings: JPMorgan Chase (JPM, Fortune 500) reported a $3.3 billion profit for the first quarter, though the bank continued to suffer losses in its consumer loan portfolio.
The New York City-based bank said it earned 74 cents a share during the quarter, up 55% from a year earlier. Analysts surveyed by Thomson Financial were expecting earnings of 64 cents a share.
Shares of JPMorgan ended more than 4% higher.
JPMorgan kicked off the reporting period for big banks, most of which are expected to post a profitable quarter.
"We'll be hearing from 125 S&P 500 companies next week, so we haven't gotten into the meat of it quite yet," said Jefferies' Hogan.
After U.S. markets closed Tuesday, chipmaker Intel (INTC, Fortune 500) reported earnings and revenue that topped Wall Street's estimates. Shares closed 3.3% higher on Wednesday.
"During the worst of the recovery, we were satiated by cost-cutting that boosted bottom-line net income," said Paul Radeke, vice president at KDV Wealth Management. "Now the market is looking for strong top-line revenue, and today it got some of that."
This week's earnings reports are tech heavy, Hogan said, and Intel's results could bode well for companies such as Google (GOOG, Fortune 500) that will report later this week. He expects the technology sector to continue rising in the coming weeks, and energy shares could be a "dark horse" gainer.
Economy: The government's monthly retail sales report and a report on consumer inflation were released before the market opened.
Retail sales jumped 1.6% in March, beating estimates from economists surveyed by Briefing.com. Sales excluding autos rose 0.6%, also topping predictions.
"This string of positive retail sales numbers implies that the rumored death of the American consumer was greatly exaggerated," Hogan said.
The Consumer Price Index (CPI), a measure of consumer inflation, rose 0.1% in March, in line with predictions. Core CPI, which excludes volatile food and energy prices, was unchanged. Economists had forecast a 0.1% jump.
A separate report showed business inventories rose 0.5% in March, slightly higher than the 0.4% jump that was forecast.
Federal Reserve Chairman Ben Bernanke testified before a joint session of Congress on the economic outlook, saying private-sector demand will be "sufficient" to spur moderate recovery in coming months, but more time is needed to recover job losses.
Separately, the Fed released its Beige Book report, which said economic activity expanded "somewhat" in 11 of the central bank's 12 districts.
World markets: Stocks in Europe ended higher, with Britain's FTSE 100, France's CAC 40 and Germany's DAX all in positive territory.
Asian markets also finished the session with gains. Hong Kong's Hang Seng edged higher, and the Nikkei in Japan added 0.4%.
Currencies and commodities: The dollar fell against its major rivals: the euro, pound and yen.
Oil prices snapped a 5-day losing streak, settling up $1.79 to $85.84 a barrel. The government's weekly report on U.S. crude inventories showed oil supplies fell by 2.2 million barrels last week.
COMEX gold for June delivery settled up $6.20 to $1,159.60 an ounce.
Bonds: Prices for U.S. Treasurys fell, with the yield on the benchmark 10-year note rising to 3.83%. Bond prices and yields move in opposite directions.
Market breadth was positive. On the New York Stock Exchange, winners topped losers almost four to one on volume of 1.1 billion shares. On the Nasdaq, advancers also beat decliners four to one, on volume of 3 billion shares.