Bonds jump after Greece and Portugal downgrades
NEW YORK (CNNMoney.com) -- Treasury prices gained Tuesday after both Greece and Portugal saw their debt downgraded.
What prices are doing: The benchmark 10-year note added 25/32 to 99-9/32, pushing the yield down to 3.72% from 3.81% late Monday. Bond prices and yields move in opposite directions.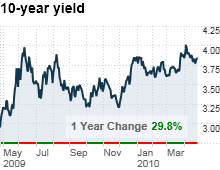 The 30-year bond soared 1-12/32 to 100-23/32 with a yield of 4.58%. The 2-year note edged up 4/32 to 100-1/32 and yielded 1%.
What's moving the market: On Tuesday afternoon, rating agency Standard and Poor's downgraded Greece's sovereign debt to junk status, and lowered Portugal's investment grade status, citing weak "macroeconomic structures."
Greece's debt problem has continued to make headlines, as the European Union weighs a bailout to avoid having the country default in May. At the same time, Portugal has begun issuing bonds and selling stakes in state-owned companies in order to reduce its own deficit.
"There's a contagion component, and it does need to be stopped," said Bill Larkin, portfolio manager at Cabot Money Management. "If this keeps snowballing, that will outweigh any progress we're making at home as far as bonds are concerned."
Also, the government sold $44 billion in 2-year notes Tuesday as part of $129 billion in total issuance this week. Investors submitted $133.1 billion in bids. The bid-to-cover ratio, a measure of demand, was 3.03.
Monday's sale of 5-year inflation-protected bonds saw somewhat disappointing demand, Larkin said, with investors submitting $34.2 billion in bids for the $11 billion issue.
"That's poor for a TIPS auction, so there's a little bit of angst on the upcoming supply," Larkin said. "Still, the tailwind from Greece and Portugal are offsetting supply concern."
The government was also planning to auction $42 billion in 5-year notes Wednesday and $32 billion in 7-year notes Thursday.