Fighting back from the foreclosure blast zone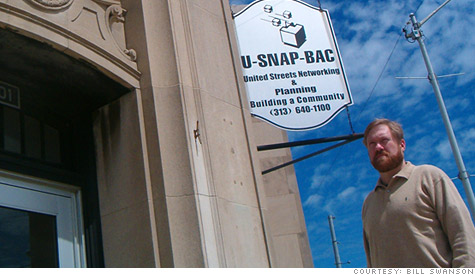 DETROIT (CNNMoney.com) -- In a city filled with foreclosures and abandoned buildings, East Warren Avenue on Detroit's east side could be called the epicenter. Banks own 1,331 buildings in the surrounding 48224 zip code. More than 7 percent of homes in the area were in foreclosure last year -- the highest rate in the city.
Vacant and boarded-up dwellings sit among the homes in this middle-class neighborhood -- many of which have signs saying "Bring back the pride" on their lawns. In the local business district, empty storefronts are interspersed with older businesses that have been around for decades and a handful of newer shops.
As residents move out, Bill Swanson spends his days trying to persuade businesses to move into those vacant commercial spaces. Shop by shop and block by block, the head of the local business alliance is waging a grassroots fight against crime, blight and neglect. He sees reviving the area's retail zone as the first step to wooing new residents.
"If they see an attractive commercial area, they're going to be more likely to feel comfortable in their own neighborhood and buy a house here," Swanson says of potential newcomers.
Beyond the high number of foreclosures, there's an added challenge for retailers in the "CEM" district, which includes Detroit's Cornerstone, East English Village and Morningside neighborhoods. The area is just blocks away from the Grosse Pointe suburbs, a well-to-do spot where Detroit residents often travel to shop at high-end stores that aren't found within the city limits. A 2007 study by Washington think tank Social Compact estimated that Morningside and East English Village residents spend $117 million annually with local businesses -- but spend another $108 million at businesses in the suburbs.
Capturing more of those dollars is crucial to shoring up the CEM area.
"You can easily go to Grosse Pointe, but I think that we as residents need to make a concerted effort to choose to shop local," says Helen Broughton, community manager at Next Detroit Neighborhood Initiative. "'Shop local' starts to mean staying on this side of the border."
Enter Swanson's CEM Business Association.
Luring and keeping shops in the East Warren area means starting with the very basics: picking up litter, painting vacant buildings, and offering cash grants to business owners to pay for facade improvements on their properties.
Swanson's goal is to remove the obstacles to doing business in his district. That means frequent trips to City Hall to unwind the red tape that can suffocate new ventures.
Karlene Trump and Mark Dahma own two buildings in the area that house a restaurant and a bakery, and will soon include a bridal shop. But last year, a potential tenant was unable to get a business permit from the city because of fees that had been levied on the buildings prior to Trump and Dahma's ownership. Despite repeated discussions with city officials, the duo and the business owner couldn't nail down exactly how much was owed.
Swanson jumped in. With his help, the owners arranged to have $4,000 in prior fees waived and paid off the remaining arrears. "We got it done in about four hours," Trump recalls. "It probably would have taken us two days to accomplish it otherwise."
Brian Pikielek, owner of bike repair and sales shop Bike Tech, credits the association with giving local businesses owners more direct access to city services and assistance than they'd manage on their own.
"Streetlights have been on based on the efforts of just a few people who call to make sure the city takes care of it," says Pikielek, who opened Bike Tech in 1985 and has weathered the area's rising and falling fortunes. "It makes a huge difference."
The CEM Business Association started in 2007 with about 10 members; today, it has 45 paid members and participation from about 80 businesses. Last year, it logged 3,400 volunteer hours for beautification and clean-up work.
So what has all that effort netted? A net total of seven additional shops. The area's business population rose from 164 in 2007 to 171 in 2010, including a few shops scheduled to open this spring.
Seven extra stores might not sound like much. But in a city that's hemorrhaging jobs, residents and money, staunching the losses is the first step.
"I think we're slowly raising the expectation levels of people in the district," Swanson says.
That includes Bettie Robinson, co-owner of soul food restaurant My Sisters & Me. Robinson and her six siblings moved the business from nearby Harper Woods two years ago in order to buy a larger building on East Warren. Sales have doubled since then.
Robinson credits the association with making the East Warren neighborhood more inviting for the restaurant and its customers.
"There's always a person that goes up and down East Warren with a bag and a broom and they clean up around the buildings. People here look at that," says Robinson, who has 22 employees. "The customers see the outside before they see the inside."