U.S. to hospitals: Clean up your act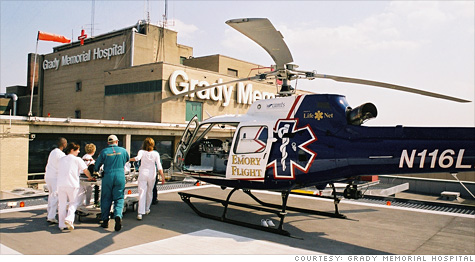 NEW YORK (CNNMoney.com) -- The new health law puts the nation's hospitals on strict notice.
Either they improve the safety and quality of care for patients or the government will hit them where it hurts the most -- their revenue.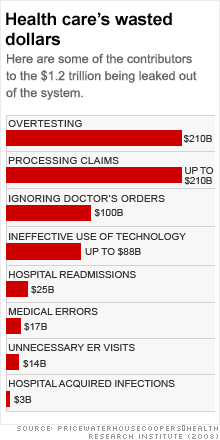 The legislation contains dozens of provisions, including fining hospitals, to reduce medical errors, hospital-borne infections and costly preventable readmissions.
Those three issues alone drain billions of dollars annually from the health care system.
Industry watchers and consumer advocates say the measures were sorely needed and will go a long way to protect patients and enhance efficiency in the system.
But for hospitals, the new law could present a tough challenge.
Preventable readmissions: These cost the health care system about $25 billion every year, according to consulting firm PricewaterhouseCoopers.
To tackle the problem, beginning in 2012, the Department of Health and Human Services (HHS) will publish each hospital's readmission track record.
Experts say high readmission rates -- when patients return within 30 days of discharge -- indicate hospitals aren't adequately addressing patient issues or they're discharging them prematurely.
In 2012, Medicare will stop paying hospitals for preventable readmissions tied to health conditions such as heart failure or pneumonia. In 2014, HHS will expand that policy to cover four additional health conditions.
Medical harm: The second penalty for hospitals is tied to hospital-acquired conditions stemming from medical errors or infections.
Here, the government has set a carrot-or-stick approach.
For instance, the government currently gives hospitals an incentive payment for simply reporting their performance on things like patient satisfaction and care quality tied to treatment of conditions such as heart failure, pneumonia and hospital-borne infections.
That's changing.
Under the legislation, hospitals won't be paid for just reporting their performance, but beginning in 2012, will be paid commensurate to their score. Higher scoring hospitals will receive higher payment and vice versa.
In 2015, HHS will also start reporting each hospital's record for medical errors and infections pertaining to Medicare patients.
About 15 million instances of injury or harm as a result of a medical treatment occur every year in the United States, according to non-profit group the Institute for Health Care Improvement.
These include more than than 30,000 people who die annually from catheter-related blood stream infections, according to consumer advocacy group Consumers Union's Safe Patient Project.
In 2015, Medicare will reduce its payments by 1% to hospitals with the highest rate of medical errors and infections. The government will also no longer pay hospitals for treatment when a Medicaid patient is harmed during a hospital stay.
A medium-sized general hospital could lose upward of $1 million a year from these penalties at a time when all providers are struggling to keep up with escalating health care costs.
"That's real money," said Brad Bowman, director with PricewaterhouseCoopers' health care advisory practice.
On top of that, Bowman warned of an even bigger risk to hospitals -- a tainted reputation.
"Think about a town with three or four hospitals," said Bowman. "Once the local press has access to hospitals' detailed quality and performance scores, consider the impact a story about a poor-performing hospital can have on its business."
It will be many times more than the dollars lost to penalties, he said. "Guess what? People will now say 'Don't take me to hospital D but to hospital A.'"
For its part, hospitals' main trade group, the American Hospital Association (AHA), said it is supportive of some provisions but concerned about others.
"The penalties are intended to send a strong message from Congress that they want hospitals to be efficient and keep patients safe," said Nancy Foster, AHA's vice president of quality and patient safety. "That's exactly what our members are working hard to do."
Regarding readmissions, Foster said the government has to be "strategic" about how to bring down what it labels "preventive" readmissions.
"You don't want a fear of penalties preventing hospitals from readmitting people who may need to come back soon after they were released," Foster said, adding that many times, patients' economic status prevents them from properly following post-hospital care and thus landing them back in a hospital.
"We're eagerly awaiting regulations that improve these provisions to make sure these types of cases are thought about," she said.
If regulations aren't sensitive to people's social issues, she warned that the measures could frequently punish hospitals that cater to the disadvantaged population.
Michael Young, CEO of Atlanta-based Grady Memorial, one of the largest public hospitals in the nation, said Foster makes a valid point.
As many as 95% of Grady's patients are in the low income bracket and 40% of those don't have insurance, which forced the hospital to provide $300 million in "free care" last year.
"When these patients can't pay for things like home nurse care and readmissions go up, it's the hospital that's getting blamed under these measures," he said.
"The legislation is a step in the right direction but the penalties are a legitimate concern," Young said. "For public hospitals, the next five years will be a tremendous challenge."
A victory for consumers
From a consumer perspective, PWC's Bowman said the law is a big win.
"Up until this point, consumers have had so little information on health care providers," he said. "You can get more information easily on a company's stock in India than on a hospital down the street."
The law, he said, cracks this door open so that consumers can make more informed choices about providers.
Lisa McGiffert with Consumers Union Safe Patient Project, agreed. "These measures put us on a path to improving care because when you change their payment structure, the behavior in hospitals improves."
And even though most of these measures affect public insurance payments, McGiffert is hopeful of a knock-on effect on private insurance payments as well.
"As Medicare goes, typically so do other private insurers," she said. "Medicare by virtue of being the largest insurance program in the country is considered the trendsetter for insurers and providers."