Forget Goldman. Buy gold, man?
NEW YORK (CNNMoney.com) -- The financial story of the week was clearly the epic Goldman Sachs hearing in the Senate.
Between the fabulous Fab's first appearance, all the sports gambling and casino analogies and Carl Levin's scatological focus on "crap pools" and "sh*tty deals," the more than ten-hour-long hearing didn't lack for drama.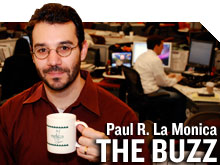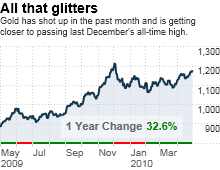 But here's a story you might have missed if you were focusing too much on Goldman (GS, Fortune 500). An asset that had fallen out of favor earlier this year is suddenly glittering again.
Forget about Goldman. You might be wondering if it's time to buy gold, man. Gold is now trading around $1,180 an ounce. It's up about 6% this month and is getting closer and closer to the all-time intra day high of about $1,227 from December.
What's driving the rally? Andrew Busch, global currency and public policy strategist at BMO Capital Markets in Chicago, said that growing concerns about the euro in the wake of this week's credit downgrades of Greece, Portugal and Spain is one reason.
Gold often rallies at times when investors are nervous about the financial markets. Gold rose dramatically when Bear Stearns and Lehman Brothers imploded in 2008, for example.
So the problems facing Europe's PIIGS (Portugal, Italy, Ireland, Greece and Spain) would appear to qualify as another good reason to shift money into gold.
"Gold is a safe harbor with all the debt downgrades in Europe," Busch said.
But he added that mounting evidence of a global economic recovery -- led by China and the U.S. -- are fanning some inflation fears. He thinks that is contributing more to the run up in gold than the worries about Europe.
Gold also tends to spike when investors are fretting about inflation since the commodity is a tangible asset that can act as a hedge against rising prices.
"There is inflation and a decent amount of it in China and it's starting to come to the U.S.," Busch said. "Even though the Fed just said the inflation trends aren't worrying, we are also going to see a pickup in job growth and the biggest component of expenses is wages which leads to inflation."
Busch was referring to Wednesday's latest statement from Fed policymakers. The central bank left rates near zero and said inflation remained "subdued."
But Busch thinks that if the economy continues to heat up -- and he pointed to Friday's first-quarter GDP growth of 3.2% as another sign of the recovery -- then inflation fears will increase. That could be good news for gold bulls.
"Gold should set a new high. Over the next few months we'll see stronger than expected job growth and the markets will believe the Fed is behind the curb on inflation," he said.
Not everyone agrees. Julian Jessop, chief international economist with London-based research firm Capital Economics, wrote in a report Thursday that if gold was going to spike above $1,200, it probably should have done so already.
"It is surely now or never for gold. Safe haven demand should be strong and rising given that gold is not dependent on the creditworthiness of any government. Despite this, current gold prices ... are still some way below the peak," he pointed out.
Jessop noted in the report that gold would probably spike if Greece actually defaulted on its debt. But the possibility of that is starting to wane as it appears the European Union and International Monetary Fund are close to finalizing an aid package to Greece at long last.
Absent another major crisis, Jessop wrote that gold could tumble all the way back down to $900 an ounce by the end of the year. He indicated that the resurgent dollar and a slowdown in purchases by foreign central banks (India and China were big buyers in 2009) could lead to a gold pullback.
Joe Foster, portfolio manager of the Van Eck International Investors Gold fund, also said that Europe-driven reasons to buy gold may soon come to an end. "I think a lot of the turmoil currently taking place in Europe is already priced into gold," he said. "While I maintain a positive long-term outlook for gold, I am very cautious, to the point of being negative, in the intermediate term."
However, the dollar and gold have been rising in tandem this month due to all the worries about Europe. And one expert thinks that will continue even if Greece finally gets the help it needs.
"What's happening in Europe is making investors incredibly nervous and that's driving gold higher," said David Beahm, vice president of economic research Blanchard & Company Inc, a New Orleans-based investing firm that specializes in tangible assets like gold.
"Greece may be solved this weekend but now Spain is a big concern and Spain is a much larger economy than Greece. The IMF and Germany can't bail out everyone in Europe," Beahm said, adding that he expects the dollar to keep rising and that it's only a matter of time before gold is back above $1,200.
Twitter trivia fun and reader comment of the week! I issued one of my periodic Twitter pop culture challenges yesterday with the promise of a shout-out in today's Buzz.
Bill Zink, aka zzzink, is the winner for identifying the source of this song-lyric, which I thought of in honor of the upcoming Berkshire Hathaway (BRKA, Fortune 500) investor weekend. "Four young chiquitas in Omaha waitin' for the band to return from the show."
Bill correctly pointed out this was from Grand Funk Railroad's "We're an American Band." He thought I chose it because of the group's name -- Berkshire (BRKB) did buy railroad Burlington Northern last year.
But I highlighted that specific line since it mentioned the Nebraska town investors are flocking to since it's where Berkshire and legendary CEO Warren Buffett are famously based.
Finally, the reader comment of the week honor goes to Mick North. He responded to yesterday's column about big techs with tons of cash with this priceless rant against Microsoft (MSFT, Fortune 500).
"Microsoft will just sit on their wallet ad watch the world go by. Stock has been dead for north of 10 years. Lots of cash and no willingness to part with a nickel of it. Someday someone will come out with a cloud based OS that business will latch onto and MSFT will go the way of the lumbering dinosaur."
Very interesting point. And it's one shared by Salesforce.com (CRM) CEO Marc Benioff. Check out his piece on Fortune.com.
- The opinions expressed in this commentary are solely those of Paul R. La Monica.