Coinstar's stock up 16% on soaring Redbox movie rentals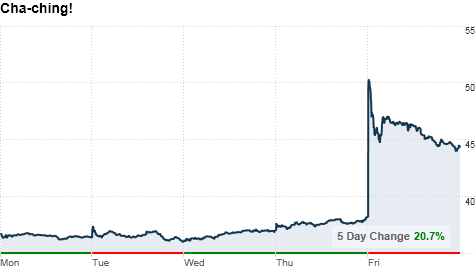 NEW YORK (CNNMoney.com) -- Shares of Redbox's parent company Coinstar jumped 16% Friday after profits more than tripled in the first quarter on much better-than-expected revenue from DVD rentals.
Coinstar's (CSTR) stock rose $6.15 to $44.36 a share. Shares had risen as high as $50.35 earlier in the day before falling back somewhat.
Redbox, Coinstar's DVD rental kiosk business, now accounts for just over three-quarters of the parent company's revenue and profit. In addition to Redbox, Coinstar operates coin-counting machines as well as money-transfer kiosks. But those other businesses were essentially flat or down in the first quarter, while sales from Redbox's DVD rentals soared 70% over last year.
Coinstar said its robust DVD business will continue to grow stronger, so the company raised its profit and sales outlook for the year.
"The traction we gained in the first quarter indicates we are well-positioned for continued success in our DVD business," said J. Scott Di Valerio, Coinstar's chief financial officer, in a prepared statement. "Solid execution in our core businesses drove our strong financial results across the board."
Late Thursday, the automated vending machine company reported first-quarter net income of $6.4 million, or 21 cents a share, up 235% from a year earlier. Revenue rose 47% to $350.1 million.
Coinstar's profit and sales report blew away analysts' forecasts. According to a Thomson Reuters poll, Wall Street expected earnings of just 13 cents per share on revenue of $327.5 million.
For a dollar a day, Redbox customers can rent DVDs from over 20,000 kiosks across the country. Unlike renting from rival Blockbuster's (BBI, Fortune 500) stores, which requires a dedicated trip to the movie store, Coinstar has deals with companies like Walgreens (WAG, Fortune 500), McDonald's (MCD, Fortune 500) and various supermarket chains. Analysts say the location of Redbox kiosks in stores that customers already were going to, combined with the low rental price, has attracted a large number of impulse shoppers, which drive the business's success.
For about a year, several movie studios had been irked by Redbox's low rental prices and refused to supply the company with new releases. But in February, Redbox inked a deal with Warner Bros., and last week, Redbox signed deals with Universal Studios and 20th Century Fox. Warner Bros. is owned by Time Warner (TWX, Fortune 500), CNNMoney.com's parent company.
Under the agreement, the movie studios will supply Redbox with ample DVDs to stock their kiosks at a discounted price. But Redbox will have to wait 28 days after the movies' initial DVD release to get them.
Redbox had hired hundreds of workers to buy DVDs at retailers like Wal-Mart (WMT, Fortune 500) to stock the kiosks, so the agreement should drastically improve the company's profitability. At the same time, some analysts worry that impulse renters will be reluctant to pick up movies from Redbox kiosks after they have already been available for rent or purchase from other retailers for over a month.
Others remain bullish about Redbox's prospects, saying most customers don't know when DVDs are released, and sales will only take a marginal hit.