Gulf of Mexico oil spill could cost BP $3 billion or more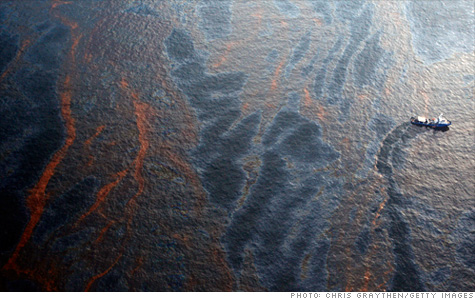 NEW YORK (CNNMoney.com) -- There are a lot of uncertainties right now about the Gulf oil spill. But one thing is clear: In addition to the intangible loss of wildlife, it's going to cost BP a lot of money.
Under current law an oil well's owner is responsible to foot the bill for the entire cost of clean up in the event of a disaster. In this case that includes BP (BP) and minority partners Anadarko (BP) and Mitsui.
Clean up costs are currently running about $6 million a day, according to BP. Those include the cost of running the remote submarines that are trying to close the well, the drilling rig that's needed to permanently cap the well, and the boats corralling and removing the oil from the water.
And with the government mobilizing to help in the clean up, it also includes reimbursing any costs that the Coast Guard or Navy incur above their normal operating expenses.
But these costs will jump once the slick makes landfall. "That's when the costs really start to mount," said Steve Potter, a vice president at SL Ross Environmental Research, a consulting firm that specializes in oil clean up techniques.
Cleaning an oil spill on land is much more labor intensive than doing so at sea, said Potter, as it involves paying lots of people to put up barriers, scrub beaches and skim wetlands.
He said BP can expect to spend at least double what it's shelling out now once the spill hits shore.
Then there's the lawsuits - which have already begun to be filed - as fishermen miss work, ports close, and other disruptions occur along the Gulf Coast.
"The implication it will have on the fishing industry there is going to be huge," said Robbert Van Batenburg, head of global research at Louis Capital Markets, a Manhattan-based brokerage. "It's just a nightmare to think about."
The clean up and the lawsuits together might run might run the company $3 billion, according to a research note Friday from Bank of America/Merrill Lynch.
But even that figure could be higher if the incident hits BP's reputation to the point where other firms no longer want to do business with them, said Van Batenburg, or if future oil exploration is limited as a result of the spill.
In many ways this spill is being compared to the 1989 Exxon Valdez disaster, where a tanker ran aground in Alaska's Prince William Sound, spilling nearly 11 million gallons of oil.
While neither spill is likely to be even close to some of the largest spills of all time worldwide, they both occurred close to shore near environmentally sensitive areas where many people make a living from the ocean. That makes these disasters very expensive.
The Valdez spill ultimately cost Exxon $4.3 billion in clean up, fines and lawsuit costs, according to an Exxon spokeswoman.
But in one important way this BP spill is very different - it's still going on.
Efforts to cap the well have so far been unsuccessful. BP officials say it could take up to three months in a worst case scenario to stop the flow, which would be done by drilling into the well and filling it with a thick mud.
At the well's current flow rate of 210,000 gallons a day it will take just 52 days to exceed the amount of oil spilled by the Valdez. And the flow rate has already been revised higher once - by a factor of five.
All this uncertainty has spooked investors.
BP shares have sank nearly 13% in the last 5 days - wiping out $25 billion in shareholder value.
Other companies involved in the spill, including rig operator Transocean (RIG), Halliburton (HAL, Fortune 500) which cemented the well, and Cameron International (CAM, Fortune 500) which made the piece of equipment that failed to cut off the oil flow, have all seen even greater declines, even though their liability may be quite limited.
The bloodbath has been so bad that many banks are now rating the shares a buy, even BP's.
"This implied cost is simply too much to us," said the Merrill note, referring to the loss in market capitalization. "The hit on BP's shares looks overdone."
Indeed, if the company caps the well and the extent of the damage becomes known, BP shares could bounce back in a week, said Van Batenburg.
As for the hit on BP's bank account, whether it's $2 billion, $3 billion or $5 billion, it's worth noting that the company made over $6 billion in profit in just the first three months of 2010.
"I wouldn't feel sorry for them too much," said Van Batenburg. 'It's not something they can't afford."