Markets at a turning point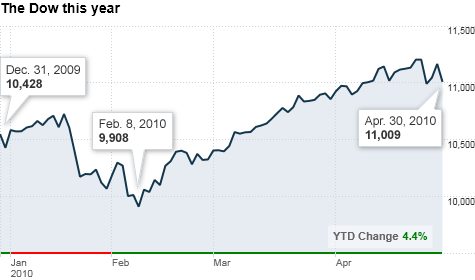 NEW YORK (CNNMoney.com) -- The Dow Jones industrial average broke its 8-week winning streak last week, ending its longest run of gains in six years and setting stocks up for what could be a bigger pullback.
Sheer momentum and bets that a bigger economic recovery is taking hold drove markets higher for two months. But the pace began to slow in mid-April and the tone turned negative. With a variety of headwinds on the horizon and the Dow and S&P 500 at 18-month highs, the short-term direction looks to be down.
"The sentiment had gotten so bullish and the market so stretched that it's no surprise we had this selloff," said Richard Campagna, chairman at 300 North Capital. "I don't think it's over. I think we could see another few weeks down."
He said the recent wave of better-than-expected economic news and first-quarter profit reports distracted from bigger problems going on both in the U.S. and abroad. But that changed last week.
Ratings agency Standard & Poor's cut Greece's debt rating to junk and lowered Portugal and Spain's ratings, adding to fears that a European debt problem could hurt the global recovery. Greece did finally come to terms on a bailout package with the EU and IMF on Sunday, however.
Allegations by federal prosecutors that Goldman Sachs committed securities fraud raised questions about how many other firms might face the frying pan. The financial reform bill is still working its way through Congress and the Gulf oil spill has hit the influential energy sector.
With all these factors swirling, stocks could be particularly vulnerable in the first half of next week, said Michael Sheldon, chief market strategist at RDM Financial Group.
And all eyes will be on the April jobs report from the government, due out Friday. "The question about the jobs report is how strong the numbers will be without the inclusion of (short-term) census workers," Sheldon said.
Results: With roughly two-thirds of the S&P 500 companies having already reported, earnings are on track to have risen 52% from a year ago and revenues by 11%, according to the latest from tracker Thomson Reuters. Companies have been largely beating earnings forecasts as well.
The coming week brings reports from three Dow components, Merck, Pfizer and Kraft Foods, as well as CNNMoney.com parent Time Warner.
On the docket
Monday: Auto sales are due throughout the day
Tuesday: Dow component Merck (MRK, Fortune 500) is due to report results before the start of trade. The company is expected to have earned 75 cents versus 74 cents a year ago, according to a consensus of analysts surveyed by Thomson Reuters. Revenue is expected to have more than doubled from a year ago.
Pfizer (PFE, Fortune 500) is also due in the morning. The Dow component likely earned 53 cents versus 54 cents a year ago. Pfizer's revenue is expected to have risen over 50% from a year ago.
President Obama and Treasury Secretary Timothy Geithner speak in Washington on job creation and economic growth.
Wednesday: CNNMoney.com parent Time Warner (TWX, Fortune 500) reports results in the morning. The entertainment company is expected to have earned 48 cents per share versus 45 cents a year ago. Revenue is expected to have fallen 9%.
The Institute for Supply Management's services sector index and the government's weekly oil inventories report are also due in the morning.
The Joint Economic Committee in Washington holds a hearing on job creation.
Thursday: April sales from the nation's chain stores are due throughout the morning, with forecasts for the retailers to show continued growth following March's gains.
Kraft Foods (KFT, Fortune 500) is expected to report quarterly results after the start of trade. The Dow component is expected to have earned 45 cents, after earning the same amount a year earlier. Revenue is expected to have risen 17%.