Auto sales: Up for the year, down for the month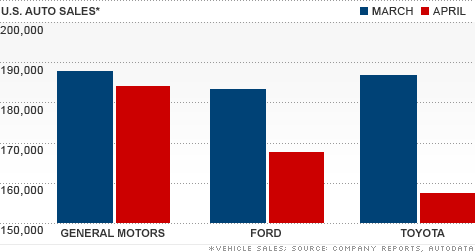 NEW YORK (CNNMoney.com) -- Major automakers posted double-digit gains in U.S. sales in April compared to the battered sales of a year ago, but the overall pace of sales fell short of March results.
Industrywide U.S. sales came in just short of 1 million vehicles, up 20% from a year ago, according to sales tracker Autodata, but a bit shy of forecasts of between a 21% to 23% gain. And sales were down 8% from March.
The sales were another sign that conditions for the industry have improved significantly from the near apocalypse of a year ago, but that the recovery is still modest at best.
"It's kind of a placeholder month," said Michelle Krebs, senior analyst with sales tracker Edmunds.com. "Things are getting better but slowly, slowly, slowly. I think the consumer is being very careful on purchases."
Krebs said the results show that the best the industry can hope for is slow and steady growth the rest of the year.
"All the fundamentals to fuel car buying -- pent-up demand, an improving economy -- are there, but we see continued hesitation by consumers to pull the trigger," said Jesse Toprak, vice president of industry trends at TrueCar.com.
It wasn't difficult for automakers to top numbers from last April, when bankruptcies loomed at General Motors and Chrysler Group, and the economy and financial markets were in far worse shape, with job losses hitting record levels.
But experts say they're not too worried about the drop in sales from March to April. They point to March's sales being inflated by the storms in February, which pushed back some purchases, and the recall problems at Toyota Motor (TM) earlier in the year.
Ford Motor (F, Fortune 500) posted a 25% gain over last year, marking its fifth straight month of gains topping 20%, good enough to move it back ahead of Toyota to be the No. 2 automaker in terms of U.S. sales. But sales fell by 9% from March. Ford sales were roughly in line with forecasts.
The company also reported double-digit increases across most of its models and brands except Volvo, which it's in the process of selling to Chinese automaker Geely. Car sales posted a 10% gain, while sales rose more than 30% for both of its truck and utility lines.
GM sales in April rose 6% from last April, but slipped 2% compared to March. That was slightly better than expert forecasts of a 3% to 4% gain compared to a year ago.
Sales at the four brands GM is in the process of closing or selling -- Pontiac, Saturn, Hummer and Saab -- tumbled 96% from a year ago. GM shed those brands as part of the bankruptcy process it filed in June of last year. There are less than 2,000 of the discontinued brands' vehicles left in dealer inventories, according to Steve Carlisle, GM's vice president, U.S. sales operations.
But the automaker posted much better comparisons for the sales of its four remaining brands -- Chevrolet, Buick, GMC and Cadillac. Sales for those brands rose 20% compared to a year ago, and were down only 1% from March levels.
Carlisle said he was pleased by the sales at the core brands and at the fact that GM was able to cut cash incentives offered to buyers in April.
"We continue to earn those sales, not buy them," he said.
Sales at troubled automaker Toyota rose 24% compared to a year ago, but fell by 16% from March. And it badly missed experts' estimates -- forecasts had been for a 33% to 39% gain there.
"That's worrying for them," said Toprak. He said Toyota sales had rebounded nicely in March based on financing and other offers to consumers, but even though the deals were extended into April, the demand fell off.
"It clearly shows the incentive program is losing its effectiveness in the market," he said. "We may see even larger incentives ahead from them."
But Toyota executives said they were pleased with April sales, and that the company is raising production of some top-selling models, including the Camry, Corolla and Rav4 to replenish depleted inventory.

Bob Carter, general manager of the Toyota Division, said Toyota had more retail sales to consumers than either GM or Ford during the month, and that those companies' sales leads were due to volume from fleet customers such as rental car companies.
"What we're really focused on is the retail volume. We don't chase the fleet and rental car business," he said.
Chrysler managed a 25% gain over last year, and squeezed out a 3% gain on its March sales total. Among major automakers, Chrysler was the only one that did significantly better than forecasts, which predicted only an 11% to 19% rise in sales year-over-year.
But gains were uneven: Sales of car models nearly doubled, while sales of light truck models other than minivan models fell 12%. Jeep sales were flat while sales at its Ram line of light trucks tumbled 22%. But sales for its Chrysler and Dodge brands both shot up 61%.
Honda Motor (HMC) sales rose 13% from a year ago posted a 5% improvement on March's totals. That was a bit better than forecasts.
But two other Asian automakers fell short of forecasts. Nissan sales gained 35% from a year ago, but had been expected to rise between 51% and 80%. The sales were off 33% from March levels.
Hyundai Motor, the automaker that operates the Hyundai and Kia brands here, posted a 24% gain in sales, but that represented a drop of 4% from March. Forecasts had called for year-over-year growth of 26% to 35% at the Korean automaker.