Get ready for OnStar everywhere
NEW YORK (CNNMoney.com) -- General Motors will soon launch a new, more powerful version of its famed OnStar mobile service. The move could take OnStar beyond the car and maybe even beyond GM itself, a GM executive told CNNMoney.com.
"We're aggressively working right now to see how we can extend the OnStar business even beyond automotive," said Chris Preuss, who was recently named head of the OnStar brand after running GM's public relations.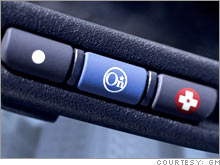 An announcement about the changes is expected this summer.
OnStar, available on nearly all Chevrolet, GMC, Buick and Cadillac cars, is a so-called telematics service that allows drivers to connect with a live OnStar operator by simply pressing a blue button inside the car. The service also automatically summons help in the event of a crash, and has other automated features like vehicle diagnostics.
The version of OnStar that will be offered with the Chevrolet Volt electric car offers a glimpse at some of the features that could be available on the new OnStar, Preuss said.
Using an OnStar mobile phone application, Volt owners will be able to interact with their car from anywhere, getting information about the battery's charge, for instance, or making sure the doors are locked -- and locking them if they're not -- from miles away. Owners can also set a specific charging time remotely, assuming the vehicle is plugged in, and they can start the vehicle remotely so it can be cooled or heated to a comfortable temperature while it's still plugged in.
This year's OnStar relaunch involves a major technology push inside GM as well a partnership with a major outside technology company, said Preuss, who declined to reveal who GM's partner is or exactly what they're doing.
"There are still a few things we want to keep under our hats," he said.
GM is hiring techies immediately to help build this new, better service, Preuss said.
"We have some openings this minute," he said "About 30 of them, but we'll need a lot more."
Since its introduction 14 years ago, OnStar has added a number of services such as turn-by-turn satellite-routed driving directions, and the ability to remotely shut off a stolen vehicle that's being pursued by police.
OnStar is a factor in at least two-thirds of customers' decisions to buy a GM product, Preuss said, and with 5.5 million paid subscribers it's an important source of income as well.
All the services OnStar now offers will remain in effect, Preuss promised, as will the live human operators, a feature that OnStar says is critical to its brand identity.
Another thing that will not change, Preuss promises, is a central focus on safety.
"We're not going to violate that safety and security tenet that's a core of our brand," he said.
In other words, entertainment is secondary, Preuss said, and GM is going to look very closely at any technology that might become a distraction behind the wheel.
Recently, competitors like Ford Motor Co (F, Fortune 500). have been moving into direct competition with OnStar but at a lower cost to the customer.
Ford recently began offering a Traffic, Directions and Information package as part of its Sync voice activated entertainment and phone interface, which allows users to easily control audio and phone features in the car with voice commands. Ford's service relies on computerized voice activated prompts with no human involvement. Ford also offers a 911 assist service that automatically dials 911 in the event of crash, but its services rely on the driver's own cell phone rather than a separate cell phone built into the car, as OnStar does.
The reduced cost of not having human operators and its own mobile technology allows Ford to offer its service free for three years and at a fraction of OnStar's subscription cost after that.
OnStar currently offers its services free for one year on most GM models, and then at subscription price of about $20 to $30 a month, depending on the level of service, or $200 to $300 a year. Even at those prices, though, Preuss said, more than half of GM owners elect to pay for the service after that first year.
While Preuss refuses to discuss possible changes to OnStar's pricing, there could be ways to defray some costs, he said.
"Would people be willing to not pay an OnStar subscription if they could have advertiser supported directions?" he said.
GM might also offer OnStar in cars from manufacturers other than GM, just as Lexus and others used it in their cars years ago when the service was first launched, Preuss said.