Stocks: After the avalanche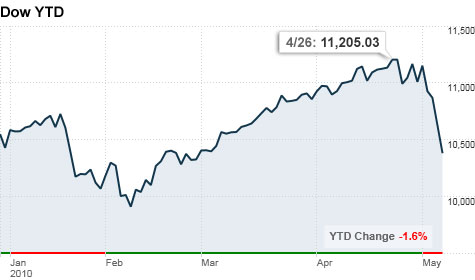 NEW YORK (CNNMoney.com) -- A brutal week on Wall Street left all three major stock gauges in negative territory for the year and the Nasdaq in full-on 'correction' mode.
This week looks to bring little in the way of relief.
Cisco and Walt Disney are both expected to report improved profits this week. Meanwhile, readings on the labor market, inventories, consumer sentiment and retail sales are likely to show that the economy continues to recover, according to economists' forecasts.
But as Friday's better-than-expected April jobs report made clear, investors know company and economic news is looking better. They aren't focused on that at the moment; they have other things on their minds.
Specifically, they are focused on Greece, where news that European leaders will be providing $146 billion in comparatively cheap loans has been overshadowed by violence and rioting by Greek citizens opposed to the country's so-called austerity measures.
Investors are also focused on Portugal, Spain, Ireland and Italy, the other so-called PIIGS, for signs that the European debt crisis is spreading. All eyes are also on the U.K., where British elections failed to produce a ruling majority, resulting in a hung Parliament for the first time since the 1970s.
The weak euro has boosted the U.S. dollar, pressuring the stocks of blue chip firms that do a lot of business overseas. Its also sent dollar-traded oil prices lower, adding to pressure on the commodity in the wake of the Gulf oil spill.
And investors are still reeling from Thursday's wild market swings in which the Dow sold off nearly 1,000 points in under ten minutes before rebounding two-thirds of the way back. Erroneous trading in more than 300 stocks, due to errors in electronic trading programs, resulted in the Dow's massive plunge -- its biggest intraday selloff ever.
While the market cut the losses to finish the day down 348 points, the specter of the sell-off looms. Friday's market was rough as well, although the depth of the selling eased up. The Dow, S&P 500 and Nasdaq all ended Friday in negative territory for the year.
Since peaking in late April, the Dow has now lost 7.4% as of Friday's close, while the S&P 500 has lost 8.7%. But the Nasdaq's loss of 10.5% from its peak to trough means its technically considered to be in a correction, a development that is likely to bring more selling in the next few weeks, said Peter Tuz, president at Chase Investment Counsel.
"To the average man on the street, Wall Street took on a casino-like atmosphere last week, where it was just a risky place to be," he said.
"Until there's a sense of calm restored to the market, with several quiet days in a row, you're going to keep seeing these volatile, weak days," he said.
On the docket
Monday: There are no market-moving economic or profit reports scheduled for Monday.
Tuesday: Wholesale inventories, due out from the Commerce Department after the start of trading, are expected to have risen 0.5% in March, according to a consensus of economists surveyed by Briefing.com. Inventories rose 0.6% in February.
In Washington, the Senate Energy Committee holds a hearing on offshore oil drilling in the morning, and the Senate Environment Committee holds a hearing on the Gulf oil spill.
The House Financial Services Subcommittee on Capital Markets holds a hearing on Thursday's stock market roller coaster ride.
Walt Disney (DIS, Fortune 500) is due to report results in the evening. The Dow component is expected to have earned 45 cents, up 6% from the 43 cents it earned a year ago.
Wednesday: The March trade balance, due out before the start of trading, is expected to have widened to $40 billion from $39.7 billion in February.
The April Treasury budget, due in the afternoon, is expected to have narrowed to $20 billion from $20.9 billion in March.
The weekly crude oil inventories report is also due in the morning.
Tech behemoth Cisco Systems (CSCO, Fortune 500) is expected to report earnings of 38 cents per share, up 28% from a year ago, when it earned 32 cents.
Thursday: The weekly jobless claims report from the Department of Labor is expected to show that approximately 440,000 Americans filed new claims for unemployment last week. 444,000 new claims were filed in the previous week.
Continuing claims, a measure of Americans who have been receiving benefits for a week or more, are expected to have dropped to 4,590,000 million from 4,594,000 the previous week.
Import and export prices are also due in the morning.
Friday: April retail sales from the Commerce Department are due in the morning. Sales are expected to have risen 0.2% after rising 1.9%, consistent with the slowdown evident in April chain-store sales. Sales excluding autos are expected to have risen 0.5% after rising 0.9% in March.
The University of Michigan's May consumer sentiment index is due shortly after the start of trading. Sentiment is expected to have risen to 73.5 from 72.2 in late April.
Industrial production and capacity utilization reports are also due in the morning, along with a reading on business inventories, all from the government.