The panic is over. But for how long?
NEW YORK (CNNMoney.com) -- The stock market is doing its best Timex impersonation. It took a licking last week but it keeps on ticking.
Thanks to a brutal four-day sell-off, the Dow, S&P 500 and Nasdaq all gave up their gains for 2010. But investors were giddily bidding up stocks again Monday on the news of a $1 trillion bailout package for Europe.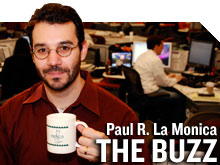 The Dow shot up more than 400 points, or nearly 4%, while the S&P 500 and Nasdaq were each trading more than 4% higher. So was last week's market slide the shortest "correction" in history or is there more downside ahead once the Europe euphoria subsides?
Some experts think Monday's manic market move (isn't alliteration fun?) is merely a relief rally and that stocks could head lower again before long.
Peter Sorrentino, senior portfolio manager with Huntington Asset Advisors in Cincinnati, said that the latest news about Europe is a good sign but it does not mean that the problems with Greece and the other debt-laden PIIGS nations are over.
He said the market was due for a sell-off since investors had mostly been shrugging off fears about Europe until last week.
"People had gotten too complacent. There are still some issues that need to be worked out," Sorrentino said.
While it's reassuring that investors seem to be less freaked out about stocks after Thursday's mini-crash that sent the Dow down nearly 1,000 points in a matter of minutes, last week's sell-off shouldn't be now dismissed as a mere overreaction to a computer trading glitch or "fat finger" human error.
It's important to remember that stocks were heading for an off week before the Thursday meltdown.
Daniel Alpert, managing director with investment bank Westwood Capital in New York, said that investors may be using the Europe debt woes as an excuse to sell -- and with good reason. The market has enjoyed heady gains from the lows of March 2009 and too much optimism may have been baked into stock prices.
"The market was frothy and it remains to be seen whether the froth will come back," he said. "I don't believe the sell-off happened specifically because of the euro crisis. Greek default fears have been playing out for months."
Alpert also pointed to figures about U.S. personal spending and income for April released by the government last week as a worrisome sign. The savings rate dipped for the third straight month and the increase in consumption outpaced the increase in income. That trend can't continue forever.
"There are worries about the sustainability of the recovery in the U.S. People are dipping back into savings to finance spending and that's upsetting," he said.
Jason Pride, director of investment strategy for Glenmede, a Philadelphia-based asset management firm, agreed that investors need to be concerned about a renewed love affair with debt.
He said that the latest bailout package for Greece and Europe, for example, can only work if countries and individuals make a concerted effort to cut back spending. And it's something that people in the U.S. need to do as well.
"The bailout may have staved off the crisis but it doesn't necessarily fix the longer-term problem," he said. "The reason the countries in Europe had all this debt is because people had gotten into a spend-thrift mode. Governments as a whole, including the U.S., have to do a lot more belt tightening."
So what does that ultimately mean for investors? Haag Sherman, managing director with Salient Partners, an investment firm based in Houston, said that investors will probably begin to fret about sovereign debt problems again soon. With that in mind, he thinks bonds are a better bet in the short run.
"The U.S. may be considered a safe haven and the dollar could rally again. That could be good for U.S. Treasurys but won't be good for stocks," he said.
But fortunately, it does not appear as if the market (or economy for that matter) is at serious risk of spiraling into another incredibly painful stretch along the lines of late 2008 and early 2009.
Sorrentino said he thinks the sense of panic that was evident last week has passed and that it's time to take a deep breath. "We're not out of the woods yet but we're not heading off a cliff," he said.
But that doesn't mean that the economy is all of a sudden healthy again. Pride thinks investors now have to adjust their expectations for what is likely to be a slow, gradual recovery that will play out over years, not months. And it will probably be an uneven recovery, not a straight line up.
"People need to invest for moderate returns and more volatility going forward. It may be a period of fiscal restraint and it's going to be tough and choppy," Pride said.
- The opinions expressed in this commentary are solely those of Paul R. La Monica.