A Michigan success story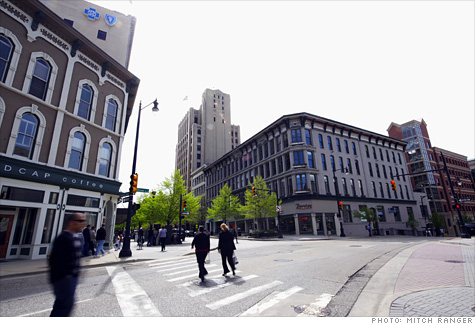 (Fortune) -- It is not the kind of view you expect these days in downtrodden Michigan. From this rooftop plaza on the 17th floor of Bridgewater Place, evidence of urban renewal spreads in every direction. Directly to the south is the modern campus of Grand Valley State University, home to 11,000 students. Across the Grand River lies the sprawl of the redeveloped entertainment district, with its new arena and convention center, steps away from downtown business and government office buildings. Atop a hill to the east is the city's crown jewel: a $1 billion (and growing) medical complex that includes a cancer research center, specialized treatment facilities, and a medical school.
This is Grand Rapids, a small city (pop. 200,000) in western Michigan with a redevelopment plan that has lessons for other cities looking to engineer new growth after the decline of old-economy industries. That this plan has taken hold in, of all places, the Rustbelt of Michigan makes it all the more remarkable. Two decades ago the city could have been headed the way of Flint, Pontiac, and, yes, Detroit. But instead its fortunes have steadily improved, thanks to a remarkable combination of business leadership, public-private cooperation, and the deep pockets of local philanthropists.
Grand Rapids is much smaller than that city on Michigan's eastern coast, Detroit (pop. 800,000). Its populace is a bit more diverse, its suburban leaders were willing to work with city government, and its issues were much less complex. But at a moment when corporate, philanthropic, and political leaders in Detroit are just beginning the process of working together to help revive the city (see "Downsizing Detroit" on time.com), the Grand Rapids reinvention is worth examining. For years Detroiters were promised that one master project after another would solve their woes. None did. But in Grand Rapids, business leaders painstakingly set goals, aligned with government officials, generated support, and empowered key players. "Every community has a culture, and you have to pick out what works in your own town," says Birgit Klohs, the energetic head of Right Place, a local economic development group. "You have to figure out who the leaders are, get them onto a team, create the vision, and get everybody headed in the same direction."
During the dismal recession of the early 1990s, things were not going well in a town some still call "Bland Rapids." Sure, the city had the Gerald R. Ford Museum, honoring its most famous citizen. But its signature furniture-making industry had long since given way to more anonymous auto parts and steel office furniture, businesses that were both hit hard by the economy. And while Grand Rapids was suffering from statewide and national economic trends, the pain was local: high unemployment, a lifeless downtown, and little to build upon for the future, given its dependence on cyclical industries with scant growth potential.
But Grand Rapids had an unusual set of assets. "The wealth in this city in proportion to its size is extraordinary," says John Canepa, who retired as chairman and CEO of Old Kent Bank. Much of that wealth is in companies, many closely held, like Amway, the direct seller of health and beauty products; Meijer's, a supermarket chain; and Steelcase (SCS), the office furniture giant. The founders of those companies or their descendants still reside in the Grand Rapids area, and match their deep roots with deep pockets of philanthropic dollars. Says David Van Andel, son of Amway co-founder Jay Van Andel: "If you want to be a player in this community, it is give first and get later."
Back in 1991, the community needed lots of giving. So Dick DeVos, son of Amway's other founder, Rich DeVos, convened a group of more than 50 community and civic leaders to begin the process of revitalizing downtown. The group, which at first called itself Grand Vision, began making plans for an entertainment and sports arena and the expansion of local convention facilities. Rather than tackle the project on its own, the group conducted a feasibility and economic-impact analysis and studied the project for two years. Then DeVos got together with Canepa and David Frey, another local banker, to make the plan a reality. "We decided," says Frey, "that we were not going to let the economic vagaries of the state define our city." They built community support and went to work.
The group, renamed Grand Action, was able to do so courtesy of $21 million from a group of private donors led by Jay Van Andel, who was awarded the privilege of having the arena named after him. (As you'll see, the city is awash in buildings named for its wealthy patrons.) The arena had reasonable goals and was an immediate success.
The arena was the start of a 20-year effort that hasn't stopped. In cooperation with city officials, business leaders revamped downtown. One strand of the plan was designed to woo and satisfy visitors. A gift from Amway's Rich DeVos led a $33 million fundraising effort toward construction of a $212 million convention center that bears his name. To comfortably house all those conventioneers, DeVos and Van Andel sponsored the building of a new J.W. Marriott Hotel downtown. And to entertain them, other givers added even more. After watching a play from the balcony of the aging Civic Theatre, supermarket magnate Fred Meijer decided to help finance a $10 million renovation -- which was then rechristened the Meijer Majestic Theater. Steelcase heir Peter Wege gave $20 million to help fund the creation of an art museum (which for some reason does not bear his name). And the 132-acre Frederik Meijer Gardens and Sculpture Park ... well, you can figure out who helped fund that beauty.
But the plan was more far-reaching than simply a play for tourists. Grand Action knew it had to lead the city into growing businesses, and plunged into two areas that have grown quite nicely in the past couple of decades: education and health care. With the help of local businessmen -- Rich DeVos, Ford adviser William Seidman, banker Dick Gillett, and Steelcase executive Bob Pew -- Grand Valley State University built a satellite campus on the Grand's west bank, with Steelcase donating much of the land. And Frederik Meijer donated more land for yet another campus to the west of Grand Rapids, in a suburb called Holland, a name that reflects the region's deep Dutch roots.
In health care, the catalyst was once again a private donor -- this one with a very personal reason for the investment. In 1996, Jay Van Andel decided to fund a new institute for biomedical research, with an emphasis on cancer and Parkinson's -- the disease that contributed to his death in 2004 at the age of 80. Outsiders urged him to erect it on a greenfield site outside the city or, more sensibly yet, to connect it to the University of Michigan medical school across the state in Ann Arbor. Van Andel decided his institute belonged in Grand Rapids. "They told us we were nuts," recalls his son David, who heads the institute. "We had no affiliation with any medical school, no history of medical research. But our family had a big stake in the community."
The result of all this hard work? Exactly what Grand Action had hoped for: a more stable economy, one that can better withstand the ups and downs of economic trends. Now, manufacturing ranks as the region's second leading employer, replaced at No. 1 by those sectors poised for the demographics of the early 21st century: education and health services.
Despite its intensive redevelopment, Grand Rapids has not solved all its problems. Unemployment is still high. Michigan's manufacturing decline, which has emptied thousands of square feet of factory space in the city, has disproportionately hit minorities. But 20 years of reinvention have seeped into the city's blood. Grand Rapids is now trying to redefine itself as the greenest city in the U.S. It claims more LEED-certified buildings per capita, a measurement of environmentally friendly design, than any city in the U.S.
It's this kind of planning, a continual reinvention with clear goals, that has been lacking in Detroit. For years city leaders failed to deliver a long-term vision of an economic future that could alleviate the impact of a declining auto industry. Now, with a businessman mayor, Dave Bing, who imagines a reinvention driven by private and public capital, the city is trying to embark on such a plan. In Grand Rapids they're rooting for their bigger neighbor to the east. "We cannot afford to see Detroit fail," says Mayor George Heartwell. But if Grand Rapids' recovery took two decades, how long will it take Detroit?