Goodbye thrift? Luxury is back
NEW YORK (CNNMoney.com) -- So much for consumers buckling down and pinching every single penny.
Several companies that cater to more extravagant tastes have been reporting strong increases in sales as of late, a sign that people may no longer feel the need to be thrifty.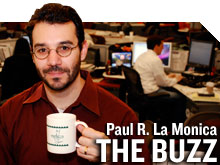 Whole Foods (WFMI, Fortune 500), the grocery store chain featuring organic goods so pricey that some customers call it Whole Paycheck, reported Wednesday that sales were up 13% from a year ago. The stock surged 6% on the news Thursday.
Handbag and leather goods maker Coach (COH) reported last month that its sales in the first quarter were up 12% from a year ago. And watch maker Fossil (FOSL) said earlier this week that first quarter sales rose 22% from the same period last year.
Sure, Fossil may not immediately bring to mind the notion of luxury. It's not Rolex or Tag Heuer after all. But it's worth pointing out that one of the company's top sellers in the quarter was a Michael Kors brand of more expensive watches. (Or as Heidi Klum would say on "Project Runway", "top American designer Michael Kors.")
The latest results from high-end retailer Nordstrom (JWN, Fortune 500) also suggest that the luxury recovery is for real. Sales rose 17% from a year ago, slightly ahead of analysts' forecasts.
And even over in Europe, concerns about debt woes aren't stopping consumers from ponying up for the finer things. Rome-based jeweler Bulgari reported earlier this week that sales rose 12%.
Meanwhile, Milan-based alcoholic beverage producer Gruppo Campari said Thursday that its first quarter sales rose 23%.
Bob Kunze-Concewitz, the CEO of Gruppo Campari, said he's confident that the company can continue to post solid levels of growth in Europe and the U.S. (Campari owns the Skyy brand of vodka and Wild Turkey bourbon) despite worries about Greece, Portugal and Spain.
It's interesting (but also slightly alarming) that consumers appear to be more willing to spend so freely again. Yes, the economy does seem to be gradually improving. At the same time though, the job market has yet to fully recover and it's not as if wages are surging.
Still, Kunze-Concewitz said that even though consumers may feel more confident, he does not get a sense that they are returning completely to their spend-thrift ways.
He noted that sales of Campari's products to restaurants, hotels and bars were hit hard during the global recession and have just finally started to stabilize. But they're not going up dramatically.
Consumers, particularly in the U.S., still appear to be more interested in buying alcoholic beverages to drink at home instead of going out since that's a more wallet-friendly option, he said.
"With high unemployment, you won't see that trend reverse for awhile. And if people are going out, they're definitely not ordering the most expensive drinks," Kunze-Concewitz said.
One hopes not. Last week, the U.S. government reported that the increase in personal spending in March was higher than the increase in personal income. As a result, the savings rate dipped to 2.7%.
That's the third consecutive monthly decrease and it's also a far cry from the savings rate of 6.4% last May -- the highest savings rate during the recession.
Still, one economist said this trend is to be expected, and it's also not a bad thing.
"People are going to go back to normal spending patterns and that should lead to the savings rate going down," said Bill Cheney, chief economist with John Hancock Financial Services in Boston
"There should be a pick up in sales because of pent up demand. There's a backlog of old computers and worn out clothes that people will want to replace. That's not an era of new excess," Cheney added.
One could argue that the rebound in sales for makers of luxury goods may mean that the recession is over only for those who are wealthy. In other words, the people who were less likely to be financially hurt during the downturn in the first place are opening their purse strings again.
There's probably a grain of truth to that. Many less affluent consumers are clearly still struggling. But Cheney said that average middle-class consumers are also likely to start buying more (and nicer) stuff again and that it's not necessarily a sign of wanton spending.
Simply put, as bad as the so-called Great Recession was, it could have been a lot worse as anyone who remembers the 1930s can tell you. That's why Cheney's not surprised by the fact that companies like Whole Foods and Coach are making a comeback.
"There is always the underlying question of whether people who were traumatized for the past two years are going to become compulsively frugal," he said. "But this wasn't the Great Depression. This downturn was bad but may not have been significant enough to change consumer behavior for a generation."
- The opinions expressed in this commentary are solely those of Paul R. La Monica.