Why Europe may kill the U.S. recovery
NEW YORK (CNNMoney.com) -- The euro is falling. Low. Way low. The important questions are: How low will it go? And what does its fall mean to us?
The troubled currency hit a new four-year low against the dollar of about $1.22 early Monday morning before bouncing back to around $1.24.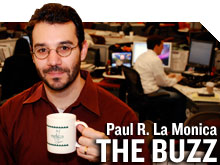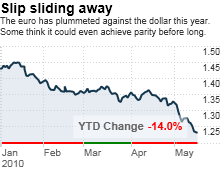 The euro is down about 14% on the dollar this year. It has slipped so far and so fast that some experts are now predicting what used to be unthinkable: the euro could actually trade at equal value with the dollar sometime in the not-so-distant future.
Brian Dolan, chief currency strategist with FOREX.com, in Bedminster, N.J., said that he expects the euro to fall to about $1.15 by the end of this year and come close to achieving parity in 2011.
Now what does this mean for the U.S. economy? The stock market has already been roiled by fears that the debt crisis in Greece won't be contained and that more trouble lies ahead for the rest of Europe's PIIGS -- Portugal, Italy, Ireland and Spain.
Two separate bailout packages announced in the past few weeks for Europe have failed to ease these worries. But this isn't just an issue for jittery Wall Street traders.
We all need to keep an eye on the euro. Further weakness with that currency is likely to be a reflection of the economic malaise that is expected to hang over Europe just like that Icelandic volcanic ash.
"Over the next several years, the euro is destined to fall further due to economic underperformance and high indebtedness in many European nations," Dolan said..
The problems with the PIIGS have the potential to slow the global economic recovery. In order to deal with the massive debt overload, Greece and other nations are likely to be subject to strict austerity measures.
And that would cause European consumers, as well as governments, to pull back on spending.
In fact, the crisis may already be having an effect on European consumers. The European Union was the largest destination for U.S. exports in 2009. But through the first three months of 2010, the EU had slipped behind Canada.
U.S. exports to Europe were still up slightly from the first quarter of 2009. But the growth was much slower than the increase in U.S. exports to Canada as well as other large trading partners like China, Japan and Latin American nations such as Mexico and Brazil.
If that trend continues, U.S. companies that do a large chunk of their business in Europe will be hurt by slowing demand for their goods and services.
"Austerity measures should slow growth in the Eurozone," said Kathy Lien, director of currency research at GFT, a foreign exchange and futures brokerage firm in New York. "There could be ripple effects. The U.S. economy is going to be affected."
And that's on top of the hit they'll take from translating sales and profits from Europe back into a stronger dollar for corporate reporting purposes.
Ian Shepherdson, chief U.S. economist with High Frequency Economics in Valhalla, N.Y., wrote in a report Monday that "euro-denominated earnings are now worth much less in dollar terms than just a few months ago."
He dubbed that section of his weekly report "Europe and the U.S. Earnings Ouch." He added that the weaker the euro (as well as British pound) gets, the more competitive European-made goods could become in the global markets. As such, that could crimp demand for U.S. exports not just in Europe but around the globe.
Shepherdson concluded that portion of his report with this gloomy proclamation: "An extended depression in Europe can only dampen and delay further the full recovery of the U.S. economy."
But will the situation grow that dire? Lien said that she did not think the euro will actually fall as far as $1 because she thinks European central bankers will take even more concrete steps to put an end to the euro's slide.
The European Central Bank has made a significant move in that regard. On Monday, the bank announced that it bought 16.5 billion euro's worth of bonds last week as the first part of its program to try and restore liquidity to the European credit markets.
So if Europe can get its act together, it's possible that the euro will once again regain some of its luster. After all, it's worth remembering that it wasn't long ago that the dollar was the proverbial ugly duckling of the currency market.
"A mere six months ago, with the budget deficit skyrocketing in the United States, the foreign exchange market looked to the euro as a possible alternative to the U.S. dollar. Today, it is turning its gaze away and shaking its head," wrote Yanick Desnoyers, assistant chief economist with National Bank Financial in Montreal in a report last week.
Who you gonna call? I was sifting through the market wreckage last Friday and noted that Yahoo was -- amazingly enough -- up even as stocks were taking another big hit.
That prompted me to issue another one of my silly pop culture challenges over on Twitter. I figured that Yahoo gaining ground on a down day for the broader market had to be a sign of the apocalypse.
So I asked my Twitter followers to identify the following end of the world-themed movie quote. "Cats and dogs living together. Mass hysteria!" Matt_SF is the winner for correctly pointing out that this came from "Ghostbusters." Here's hoping that he ain't afraid of no ghosts.
- The opinions expressed in this commentary are solely those of Paul R. La Monica.