How low can the euro go? Very.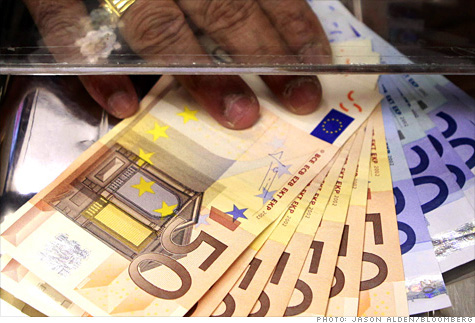 (Fortune) -- Whether or not Gisele and Jay-Z are still dancing, the euro party looks to be over.
Briefly slumping to a four-year low against the dollar yesterday, the euro has gained the dubious distinction of being the worst-performing major currency this year. And more pain could be on the way, despite the $1 trillion aid package that bought the European Union's financial impresarios enough time to force some tough love on Greece and other debt-tipsy members.
Although the currency regained a bit of strength today, don't expect it to find momentum anytime soon. In fact, it could still have a ways to fall.
Concern over the eurozone's growth and its lingering fiscal morass has led several analysts to call for the euro, currently valued at about $1.24, to reach dollar parity before it stages any sort of rebound. In making his own call for parity, Christopher Wood, chief equity strategist at CLSA Asia Pacific Markets, said that the euro will become "fundamentally weak currency."
Part of the problem, says BNP Paribas, which called for dollar-euro parity by 2011, is that Europe will probably be forced to switch from using fiscal tools to monetary instruments in its attempt to heal the system. That would mean printing money, which, BNP Paribas notes, would send "the euro massively lower."
While such a move might be good for blue-chip European exporters (and the reason analysts are now quickly lifting profit estimates for the members of the Euro Stoxx 50), it is bad news for many other investors and savers who may be caught flat-footed.
Euro's wild ride
Parity, of course, was where the euro began its tumultuous life in January 1999, shortly before an earlier group of eurozone naysayers managed to push it down a good deal further. Back then many currency traders figured it would be impossible for Europe's farrago of monetary and political systems to ever join in an appropriately smooth mix. Perhaps they were right.
But by November 2007, it was the dollar's turn to be the currency everyone loved to hate and two unlikely forex oracles -- supermodel Gisele Bundchen and rapper Jay-Z -- were among those dancing on its grave. Bundchen reportedly requested that she be paid in euros for her modeling gigs. Jay-Z chose a stack of 500 euro bills as his flash cash in his hip-hop single "Blue Magic," where he urged listeners to open their minds and "see the circus in the sky."
They weren't alone, of course. Everyone from Warren Buffett to Pimco's bond king, Bill Gross, was negative on the dollar. Jim Rogers, who started the Quantum Fund with George Soros, declared he was selling all his US assets and moving to Asia.
The problem was that the euro topped out against the dollar at 1.6 euros about six months after Gisele and Jay-Z turned bearish on it. There's been no word of late whether the two have now joined the euro-dumping crowd, thereby becoming something of a euro-tell as well.
But while a few market watchers, including Goldman Sachs chief global economist Jim O'Neill, say the number of bearish bets now out there against the euro may give it a little support, even O'Neill is calling for the euro to fall to about $1.20 before it possibly stabilizes. And he's not seeing any great snapback, just drawing the line at those who foretell a collapse.
One would think the euro's pain would be the dollar's gain. The dollar and the yen have risen against the euro. But these currencies rest on shaky balance sheets of their own, and that is bringing just about everyone back to gold. The yellow metal appears to be in bubble territory, what with 10-gram gold bars now being dispensed from ATMs in Dubai. But it still shines the brightest among the "currencies" and could be buffed further. CLSA analyst Wood sees gold reaching $3,500 minimum an ounce and going "parabolic when the dollar ceases to become the reserve currency."
Luckily for Jay-Z, he won't lose any cred if he has to stack a few tons of gold bars in his next music video.