Fear index soars to 14-month high
NEW YORK (CNNMoney.com) -- Wall Street's key measure of volatility skyrocketed on Thursday, as all major stock indexes plummeted on concerns about the European debt crisis.
The CBOE Volatility (VIX) index, or the VIX, jumped 31.2% to 46.35, after surging as high as 46.37 earlier in the session.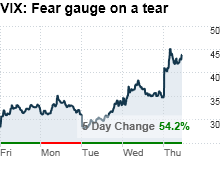 Stocks fell sharply, with the Dow Jones industrial average (INDU) plunging more than 200 points, or 2.7%, after sinking as much as 328 points earlier in the session.
Year to date, the VIX has risen 114%. It's up more than 73% over the past five days alone. Just four weeks ago, the VIX was at a three-year low.
A VIX reading higher than 30 is considered a sign that investors are getting worried. But even at Thursday's highs, the VIX is still way below the peak level of almost 90 hit in October 2008 -- after Lehman Brothers collapsed.
Concerns about European debt have battered global stocks and spilled over into U.S. markets. The European Union and International Monetary Fund hammered out a $1 trillion European aid package, but that has failed to assuage worries.
Some investors fear that even the massive bailout won't be enough to contain debt problems from spreading throughout Europe. Earlier this month, riots in Greece turned deadly with protesters enraged over severe new government austerity measures.
Other countries, including Portugal and Spain, also announced budget cuts to avoid problems seen in debt-choked Greece -- but investors worry that could hamper fragile recovery. Those fears sent the euro spiraling to a four-year low, which set off alarm bells for market participants.
European shares also felt the blow Thursday, closing lower to extend the previous session's sharp drop. Britain's FTSE 100 was down 2%, France's CAC 40 fell 4.2% and Germany's DAX lost 2%.