Investor fear is back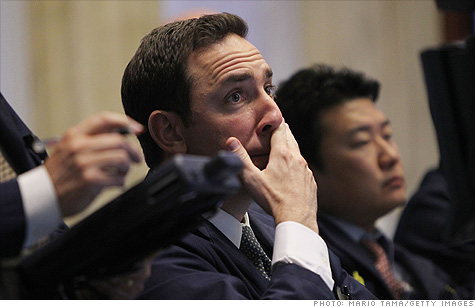 NEW YORK (CNNMoney.com) -- What a difference a month makes.
Roughly four weeks ago, the Dow (INDU) was at an 18-month high, Wall Street's fear gauge, the VIX (VIX), was at a three-year low and the yield on the 10-year Treasury note was flirting with 4% as investors poured money into stocks.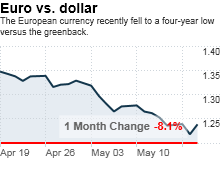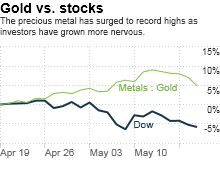 Meanwhile, the euro was still falling apart on worries about Greece and the European debt crisis. Gold and other commodity prices were still rising. But investors weren't panicked. Strong corporate earnings and signs that the recovery was underway tempered worries about global markets, currencies and commodities.
One month later and investors have done a complete 180. A $1 trillion European aid package failed to assuage worries about Greece and other struggling European nations. Those fears sent the euro spiraling to a four-year low and set off all kinds of alarms for market participants.
Now, the yield on the benchmark 10-year note is closer to 3% than 4%. "Investors are flocking to bonds because they're scared," said Madeline Schnapp, Director of Macroeconomic research at mutual fund tracker Trim Tabs. And the recent record run on gold "is a vote of no confidence in the euro."
Fear factors
U.S. stocks are down: Markets were already wobbling ahead of the flash crash of May 6, when the Dow plunged nearly 1,000 points during its worst intraday session ever. Since then, stocks have zigzagged, with the Dow posting a series of triple-digit swings as investors struggle to find their footing.
Friday brought more churning, with stocks struggling to move into positive territory following the previous day's brutal session that saw the Dow plunging 376 points, for its worst day in 15 months.
"There's a heightened sense of nervousness," said Steven Goldman, market strategist at Weeden & Co.
All three major indexes moved into correction territory Thursday, marked by a 10% drop off the recent rally highs.
Since peaking at 17-month highs in late April, the Dow has lost 10.2% and the broader S&P 500 has lost 12%, through Thursday's close. The Nasdaq reached a 22-month high in late April and has since fallen 12.9%.
The correction does not reflect any change in the fundamentals of the U.S. economy or corporate profit outlook, but rather a confluence of events, said Timothy Ghriskey, chief investment officer at Solaris Asset Management.
"I don't think people are worrying about a double-dip recession in the United States," Ghriskey said. "But there is uncertainty about Europe's economy and the sustainability of the euro."
European and Asian stocks are down: Global markets have had it even worse than markets in the United States. The British FTSE 100 is down 10% since late April, the French CAC 40 is down 12% and the German DAX is off 5%.
The Shanghai Composite index has lost nearly 15% in the last month, briefly entering bear territory, while the Japanese Nikkei has lost 10%. Asian markets have been hammered by the European crisis and the euro's weakness too, but the region has concerns of its own.
Higher inflationary pressure in China is causing the government to slow down the pace of growth and some investors are worried they'll take it too far. Japan's economy grew in the first quarter, but less than expected, adding to the pressure.
Volatility is rising: After a relatively calm period following the 2008-early 2009 whiplash, volatility has returned.
Wall Street's fear factor, the CBOE Volatility index (the VIX), jumped to a 14-month high Thursday, closing at 45.48. It had already spiked to a 13-month high just two weeks ago but had been largely seesawing since then. Year to date, the VIX is now up 114%, having jumped more than 73% over the past five days alone.
On Friday, the VIX eased off its highs, drifting down about 4% to 43.95 but any reading higher than 30 is still considered a sign of investor worry.
Bonds still buoyant: Investors are flocking to bonds, seen as a safe spot to park their cash in times of economic uncertainty. A month ago, the yield on the 10-year note was nearing 4%, sparking concerns that a period of higher rates would hurt the still-germinating housing market recovery. Not so now.
The yield on the 10-year currently stands at 3.19% and experts expect it to keep falling. (As bond prices rise, the corresponding yields fall).
Gold rising, oil slipping: Investors worldwide have been buying up gold as a safe-haven alternative to the battered euro but also as a hedge against inflation. Gold closed at a record $1,243.10 an ounce last week. It's backed off since then and some analysts think it could be in for a major plunge in the next two years.
Meanwhile, oil, copper and other commodity prices have been falling on worries about the global economy.
Other factors: Bank-to-bank lending rates have been on the rise, including Libor, the London Interbank offered rate. 3-month Libor edged up to 0.50% Friday from 0.31% a month ago. However, Libor rates remain far below the 10-year high of 3.77% hit in late September 2008 at the height of the crisis.