Europe's solar eclipse
NEW YORK (CNNMoney.com) -- "The sunshine bores the daylights out of me."
Mick Jagger wasn't singing about solar energy on "Rocks Off," the first track off the recently reissued "Exile on Main Street." But he might as well have been.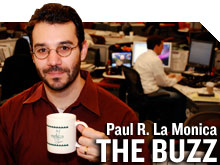 One of the consequences of Europe's financial mess that hasn't gotten a lot of attention is that shares of companies in the once red-hot solar sector have gotten absolutely pummeled.
First Solar (FSLR), a maker of tin-film solar modules that's a member of the S&P 500, has plunged nearly 25% so far this month despite reporting better-than-expected earnings in late April.
Other solar companies, including many based in China, have also taken a big hit. One Chinese solar company, JinkoSolar (JKS), went public just last week and has already fallen more than 10% from its offering price.
It's not just solar stocks that are plummeting. Several alternative energy exchange-traded funds that invest in companies with exposure to solar, wind turbines and biofuels like ethanol, have plunged as well.
And shares of A123 Systems (AONE), a widely-hyped maker of lithium-ion batteries used in electric cars and hybrids, have dropped more than 20% this month. The company, which went public last September, has financial backing from GE (GE, Fortune 500), Motorola (MOT, Fortune 500) and Qualcomm (QCOM, Fortune 500) as well as several high-profile venture capitalists.
What's the deal? Well, the debt crisis in Europe appears to be scaring off green energy investors for two main reasons. First, many alternative energy companies, especially the solar companies, do a big bulk of their business in Europe and have benefited from government subsidies.
First Solar, for example, said in its most recent regulatory filing that it sold a majority of its solar modules in the first quarter to companies headquartered in Germany, France, Spain and Italy.
Any company doing big business in two of Europe's five so-called PIIGS nations is getting punished by investors right now. But the bigger concern is that the problems in Europe won't lead to strict austerity measures just in Greece, Portugal and Spain.
Other more prosperous E.U. nations like France and Germany may also be forced to cut back spending.
"Europe has traditionally been a subsidizer of many clean tech initiatives and with budgets under stress, expenses probably have to be tightened. That's a concern," said John Quealy, a sustainability analyst with Canaccord Genuity in Boston.
The other issue tied to Europe that's affecting the entire alternative energy sector is that oil prices, which had been flirting with $90 a barrel not long ago, are now around $67.50.
Anytime crude sinks, the knee-jerk reaction from investors is usually to sell alternative energy companies on the notion that "cheaper oil" will lead people to be less concerned about finding sources of energy that are, to use BP's unfortunate slogan, beyond petroleum.
"In the U.S. there has always been a fickle relationship with energy policy. We have a short-term memory. Gas goes up to $4 and we panic, and when it gets close to $1 we forget about needing other options," said Ed Elanjian, chief executive officer of EnviroFinance Group, a Sacramento, Calif.-based specialty investor and lender focusing on alternative energy.
But Quealy said the sell-off in the whole group may be a bit overdone. A decrease in government spending on alternative energy projects in Europe may be an unfortunate byproduct of the euro crisis, but he said some companies are still benefiting from strong demand in the U.S. and China.
He pointed out that energy management firm EnerNOC (ENOC), for example, just won a contract with electric grid operator PJM that will lead to about $200 million in revenue.
And American Superconductor (AMSC), which makes electrical components used in wind turbines, recently announced it got a $445 million order from Chinese wind turbine manufacturer Sinovel Wind Group.
Still, some think alternative energy may be an idea ahead of its time -- at least from an investment standpoint.
"Alternative energy makes you feel good but it's a long way from making sense economically," said Stephen Jones, co-manager of the Jones Villalta Opportunity fund in Austin, Texas. The fund owns no alternative energy stocks but does have stakes in natural gas producer Chesapeake Energy (CHK, Fortune 500) and oil giant ConocoPhillips (COP, Fortune 500).
Elanjian added that there needs to be a "consistent act of will" to make solar energy and other forms of alternative energy viable. That's a process that could require 10 to 15 years of focus, he said.
But with the federal government and state governments also facing major budget problems, there may not be as much political will to keep boosting spending on cleaner, sustainable energy now -- regardless of concerns about the latest oil spill and how important it may be for the long-term health of the environment.
"I drive a hybrid car and have solar panels," said Jones, "but without enough government subsidies, alternative energy just doesn't work."
- The opinions expressed in this commentary are solely those of Paul R. La Monica.