Can Starbucks still be Seattle's best if it grows by hyping Seattle's Best?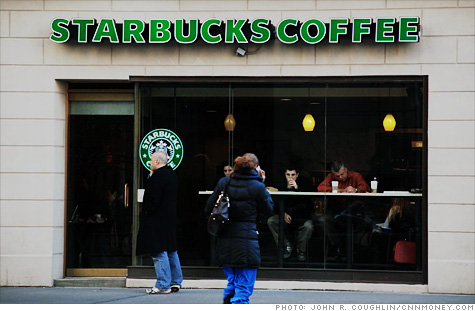 FORTUNE -- Starbucks bought Seattle's Best back in 2003, but a week or so ago most coffee drinkers didn't know the two brands were related. The company didn't need them to. For years, opening new Starbucks stores had been enough to drive tremendous growth without any help from its little sister.
Then that joke about having a Starbucks across the street from another Starbucks (SBUX, Fortune 500) started coming a bit too close to reality, forcing the company to close up hundreds of stores over the last three years. Starbucks had turned into a "former rapid growth business approaching 'maturity' based on their historical business model," wrote Barclays Capital analyst Jeffrey Bernstein in a recent note. So what's a barista to do?
While Seattle's Best may have been second fiddle to Starbucks, it's now becoming primary to the company's growth strategy. Starbucks has re-branded Seattle's Best into what it calls an "approachable" line (read: less upscale) and plans to grow it into a multibillion-dollar brand.
We've seen this movie before
Starbucks' move is a familiar one in the consumer world. In fashion, there's Gap (GPS, Fortune 500) with its Old Navy and Banana Republic brands, or take Ralph Lauren's (RL, Fortune 500) American Living line for J.C. Penney (JCP, Fortune 500). Williams-Sonoma (WSM) has Pottery Barn and West Elm. Marriott (MAR, Fortune 500) has the Fairfield Inn, and the list goes on. Companies do it because it's a classic, proven way to grow a business.
"It gives you the opportunity to reach a different group of customers without extending your core brand too far," says Tim Calkins at Northwestern's Kellogg School of Management.
The company has license to put Seattle's Best in places-vending machines, fast food restaurants, convenience stores-it has been reluctant to have Starbucks, for fear of eroding its integrity and upscale image. Seattle's Best can also reach coffee drinkers who might never walk into a Starbucks because they perceive it as too expensive or high-end.
Launching a secondary brand is not always strictly about expansion. Companies can use the approach as a strategy for shielding their crown jewel from competitors. There's more than a hint of that going on at Starbucks, where executives are likely having nightmares about the McDonald's (MCD, Fortune 500) McCafe line of espresso drinks. The fast food giant is rolling out Frappes, which probably sounds a little to close to the Frappuccino for Howard Schultz's comfort.
Starbucks initially made a mistake in directly engaging with McDonald's when the fast-food giant started pushing out McCafe with greater force last May, says Neil Morgan, a professor at the Indiana University's business school. (Starbucks put out one-page ads with taglines like "If your coffee isn't perfect we'll make it over. If it's still not perfect make sure you're in a Starbucks.")
McCafe, meet Seattle's Best (and leave Starbucks alone!)
"By being forced to respond, you've got McDonald's and Starbucks in the same sentence, which is not what you want," Morgan says. Doing so pulls McDonald's up into a more premium category, while eroding some of the Starbucks cache. But now with Seattle's Best, Starbucks can tie up competitors' energy, focus, and money with another mass-market brand.
But developing another line is never a guaranteed slam-dunk. The biggest hurdle for companies is figuring out how to keep brands distinct. "The challenge to Starbucks is what is Seattle's Best brand going to stand for really," Calkins says. "Is it just coffee that isn't quite as good as Starbucks?" The more overlap between the brands, the more cannibalization and customer confusion.
In the car world, GM is the prime example of what happens when you have too many brands. The success story in the industry is BMW with Rolls Royce and MINI lines. In retail, Gap got into trouble when its Old Navy line started overlap with its own price, quality, and style.
For Starbucks, the business models and target audiences of the brands are different enough that the company isn't worried about cannibalization, Seattle's Best president Michelle Gass told Fortune. Starbucks is a destination coffee experience, and an active choice made by the customer. Seattle's Best will instead be brought to the consumer when they make other retail choices: it has partnerships with AMC Theatres, Subway, and Burger King (BKC), locations where, unlike Starbucks, a coffee product is not the main event.
Here's the catch-22: if consumers new to Seattle's Best think it has great coffee, they might buy it over Starbucks because they like the lower price. But if the product leaves a bad taste in their mouths (figuratively and literally) it can drag down consumers' perception of the entire company. Starbucks is on to that, and that's likely why Gass describes Seattle's Best as premium and says the brand is helping a company like Burger King "trade up" its coffee offerings. If it doesn't, Starbucks will have a lot more than a bad cup of coffee to worry about.