Stocks: New month, same malaise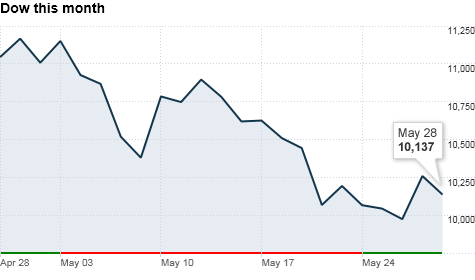 NEW YORK (CNNMoney.com) -- Investors return from a long holiday weekend having bid adieu to the Dow's worst May since 1940. But the issues that caused the collapse haven't gone anywhere.
On Friday, ratings agency Fitch downgraded Spain's debt to a lower investment grade. The nation's debt remains well above junk status, and the move surprised few market watchers, but it pummeled stocks nonetheless, reminding investors that Europe's debt crisis is far from over.
Greece sparked the credit mess, but now investors are focused on the other PIIGS -- Portugal, Ireland, Italy and Spain -- as investors doubt the $1 trillion European aid package will be enough. The euro now stands just a penny above the four-year low of $1.2146 it hit in mid-May, and is expected to keep slipping.
Europe's debt crisis, along with increased tensions between North and South Korea, were among the big factors dragging on stocks last month. Those issues aren't going to disappear in June, but the selling may taper off for a while as investors sort through a fresh batch of economic news.
"We're not in a situation like 2008, when we saw our financial system collapsing," said Kenny Landgraf, president at Kenjol Capital Management. "But Europe was slow to respond, and there's a real fear factor impacting trading."
He said that the fundamentals -- the improvements in company profits and the signs of recovery in the economy -- remain in place, but with increased volatility, investors aren't able to focus on those basics.
Reports on housing and construction spending due out this week are expected to show continued improvement, but a key reading on manufacturing from the Institute for Supply Management (ISM) is expected to show weakness. The biggest reports, with readings on the jobs market, are due in the last three days of the week.
May selloff: A brutal retreat over the past four weeks has left the Dow, Nasdaq and S&P 500 in "correction" mode, the technical term for a drop of more than 10% from a high. In this case, the markets hit their rally peaks around the 23rd of April.
Late April brought some selling, but the declines really accelerated the following month, with the Dow losing 7.9% for its worst May since 1940 when it dropped 21.7%. The S&P 500 lost 8.2% for its worst May since 1962, when it fell 8.6%. The Nasdaq's plunge of 8.3% was its worst May performance since 2000, when it slumped 11.9%.
It's not clear whether the weeks ahead will bring enough pressure to push the correction into a bear market -- a selloff of at least 20% off a high -- or if investors will treat the declines as a buying opportunity.
"We're in a very leveraged world, and that's reset everyone's expectations for growth," said Mark Travis, President and CEO at Intrepid Capital Funds. "With that having been said, I do think now is a good time to be a value investor."
He said in general it can be a good strategy to "wait until it gets really ugly and then add a little money. We're getting close to that point now."
On the docket
Monday: All financial markets are closed for Memorial Day and no economic or corporate reports are scheduled.
Tuesday: April construction spending, due out after the start of trading, is expected to have risen 0.1% after rising 0.2% in March, according to a consensus of analysts surveyed by Briefing.com.
The Institute for Supply Management (ISM)'s manufacturing index for May is expected to have fallen to 58.9 from 60.4 in April.
Wednesday: The Pending home sales index for April, a measure of sales contracts for existing homes, is expected to have risen 3.5% after rising 5.3% in March. The report from the National Association of Realtors is due before the start of trading.
The U.S. government's weekly crude oil inventories report is due in the morning. May auto and truck sales are due throughout the afternoon.
Thursday: A number of labor market reports come out in the morning ahead of Friday's big non-farm payrolls report from the federal government.
The weekly jobless claims tally from the Department of Labor is due before the start of trading. 455,000 Americans are expected to have filed new claims for unemployment versus 460,000 last week.
Payroll services firm ADP is expected to report that employers added 56,000 private-sector jobs in May after adding 32,000 in April.
A report on announced job cuts from outplacement firm Challenger, Gray & Christmas is also due.
The ISM's services sector index for May is due in the morning along with government readings on first-quarter productivity and unit labor costs. However, neither report is typically a market mover.
Friday: The May jobs report from the Department of Labor is due before the start of trading. Employers are expected to have added 500,000 jobs to their payrolls after adding 290,000 in the previous month. The unemployment rate is expected to rise to 10% from 9.9% in April.

Investors return from a long holiday weekend having bid adieu to the Dow's worst May since 1940. But the issues that caused the collapse haven't gone anywhere.