Is the euro crisis over or just beginning?
NEW YORK (CNNMoney.com) -- The euro has been down so long, maybe there is no place for it to go but up?
The bruised and battered currency did hit a four-year low against the dollar early Tuesday morning of about $1.21, but it has since bounced back to about $1.23.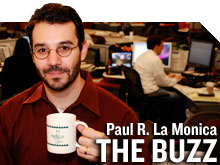 Some experts were pleasantly surprised by the sudden comeback. It's not as if there was a ton of good news to justify the euro rebound.

Ratings agency Fitch downgraded the credit rating of Spain late Friday. And on Monday -- a day when the U.S. financial markets were closed -- the European Central Bank warned that European banks could face a second big wave of losses through 2011 because of the debt crisis in Southern Europe.
"The euro sell-off may have run its course. The fact that we had so many negative things about Europe in the past few days and the euro is still holding above $1.22 shows that something's changed here," said Andrew Busch, global currency and public policy strategist at BMO Capital Markets in Chicago.
Still, is it too early to declare that the worst is over for the euro? After all, the issues that led to the financial woes in Greece and the other PIIGS nations mounted over a lengthy period of time.
"This crisis will last months, not days or weeks. Sovereign credit problems take a long time to resolve," said Guy LeBas, chief fixed income strategist with Janney Montgomery Scott in Philadelphia.
LeBas said he thinks that investors will continue to shun the euro in favor of dollar-denominated assets such as U.S. bonds -- despite the fact that the rush into bonds has left long-term yields relatively low. (Bond prices and rates move in opposite directions.)
He added that global investors aren't necessarily expressing a show of great confidence in the U.S. by buying bonds. It's simply a case of the dollar and Treasurys being "less worse" than the euro and bonds of European nations.
"When investors are this skittish, they are focused on return of principal not return on principal. Treasurys are the tallest midget on the block, the strongest credit in a weak world," LeBas said.
That's not good. Continued woes for the euro could make it more difficult for the U.S. stock market to rebound following a brutal May correction. Many companies doing significant business in Europe may find their profits under pressure as a result of unfavorable exchange rates and weak demand in Europe.
With that in mind, Susquehanna Internet stock analyst Marianne Wolk wrote in a report Tuesday that she was lowering her earnings targets for Google (GOOG, Fortune 500), eBay (EBAY, Fortune 500), Priceline (PCLN) and Expedia (EXPE) as each generates a decent chunk of revenue from Europe.
"At this juncture, the euro has fallen low enough and long enough for us to predict a negative impact on earnings is highly likely," she wrote.
Cowen & Co. apparel analyst John Kernan is also worried about the euro's plunge. He wrote in a report Tuesday that a "rapid deterioration in the euro" is the biggest near-term risk for several clothing makers he just initiated coverage on: Guess? (GES), Phillips-Van Huesen (PVH) and Polo Ralph Lauren (RL, Fortune 500).
LeBas said he's hopeful that most U.S. companies have done enough currency hedging to protect themselves from the euro's sharp fall, but added that it's reasonable to expect weaker consumer spending in Europe now that austerity is a buzz word across much of the continent.
Still, there is some evidence that Europe's woes, while undoubtedly a setback to the U.S. economy, won't create a meltdown along the lines of 2008. The U.S. manufacturing sector, for example, continued to grow in May, in spite of the problems in Europe.

There's some skepticism about the strength of manufacturing.
"The European fiscal crisis doesn't appear to have harmed the prospects of U.S. manufacturers, at least not yet," wrote Paul Ashworth, senior U.S. economist with Capital Economics in Toronto, adding that there will likely be a bigger impact on U.S. exports in the coming months.
However, the new export orders component of the ISM Manufacturing Index released Tuesday was the highest in two decades. BMO's Busch said the encouraging manufacturing data may help convince investors that Europe won't drag the U.S. and global economy into another recession.
"In the past few weeks, the story has morphed from just a European debt crisis to fears of a global financial crisis. This is a serious European sovereign debt crisis but it doesn't look like it will derail the global recovery," Busch said.
- The opinions expressed in this commentary are solely those of Paul R. La Monica.