BP's television ad blitz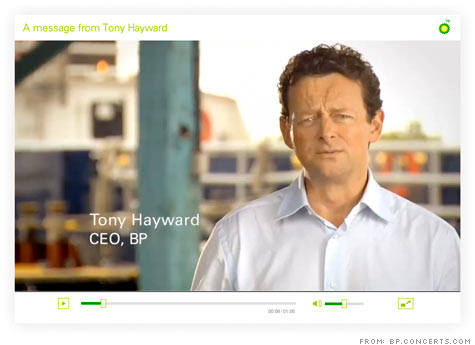 NEW YORK (CNNMoney.com) -- BP's new television ad campaign featuring apologetic CEO Tony Hayward is an expensive and probably ineffective bid to rehabilitate the energy giant's image, according to ad experts.
BP (BP) began running TV ads Thursday featuring Hayward as he apologizes for the disaster and takes "full responsibility for cleaning up the spill in the Gulf. We've helped organize the largest environmental response in this country's history."
The company is also running print ads in newspapers including The New York Times, the Wall Street Journal, USA Today and The Washington Post.
The price tag for this PR gambit: About $50 million, according to an estimate from Jon Bond, co-founder of the Kirshenbaum Bond Senecal agency, which has counted brands such as Snapple and Capital One as clients.
BP declined to comment on the cost.
The TV ad, which is appearing on national cable and broadcast networks, including ABC and CNN, has the same tag line as the newspaper ads: "We will get this done. We will make this right."
According to sources familiar with the arrangement, the TV spot was produced by the Washington-based, bipartisan political consulting firm Purple Strategies, headed up by veteran political consultants Steve McMahon, a Democrat, and Alex Castellanos, a Republican. Castellanos is also a CNN contributor.
But regardless of this campaign's pedigree, marketing experts aren't convinced that this is money well spent.
"What they're doing is Tylenol 1982, but it's not 1982," said Jon Bond, referring to Tylenol cyanide incident, which prompted the CEO of Johnson & Johnson (JNJ, Fortune 500) to appear in a televised ad campaign in an attempt to reassure customers.
One big difference between now and then is the fact that BP's airtime has a formidable competitor: A live video feed of the underwater leak that's all over television and the Internet.
Rather than put its CEO on TV, Bond said it would be more effective for BP to set up a live 24-hour channel showing the work its employees are doing to try and contain the spill.
Indeed, the fact that BP is still struggling to stem the gusher of oil is another hurdle that makes it hard to improve its image right now.
"I don't know if now's the time to be spending the money on advertising-marketing," said Spyro Kourtis, president of the ad agency Hacker Group. "I don't think they have control of the situation. That's the problem."
Of course, BP disagrees. "Tony Hayward believes he has an obligation, a responsibility, not only to stop this leak and clean up this spill, but to keep people informed about the effort," said spokesman Mark Salt.
But Kourtis said that BP should "go dark for a while until they have control over the situation."
The situation is a leaking oil well in the Gulf of Mexico, about 40 miles off the Louisiana coast and 5,000 feet below the surface of the water, which has been spewing an estimated 19,000 barrels per day since April 20. The oil has fouled islands off the Louisiana mainland, washed tar balls onto the beaches of Mississippi and Alabama and is expected to reach the Florida panhandle this week.
The well is 65% owned by BP, which has agreed to pay for the cleanup. The cost is estimated to reach $3 billion in 2010 alone, according to Fitch Ratings, which downgraded BP on Thursday. The total tab could be as much as $30 billion.
In the face of such an epic disaster, says Brad Adgate, senior vice president of research at Horizon Media, the ad in and of itself will have a limited ability to influence public opinion. But he says that it's something that the CEO has to do.
"Is this alone going to work? No," said Adgate. "This is the first step in what's going to be a long process in putting this behind them."
-- CNN Senior Congressional Correspondent Dana Bash contributed to this report.