Would we hate Goldman Sachs less if it had ATMs?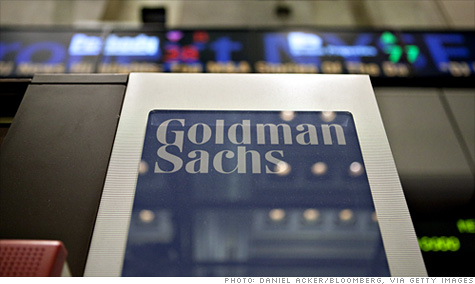 FORTUNE -- With all the public fury aimed at Goldman Sachs these days, it should come as no surprise that an employee or two of the storied investment bank wishes that things were somehow ... different.
But how much different? If you believe backyard barbecue conversations, at least some of them wish they were -- and this is no joke -- a retail bank.
You heard that right. The uber-wealthy swashbucklers of finance wish that they had themselves a pair of modest green eyeshades. This is clearly schizophrenia of the highest order.
Let us back up a moment and explain. Last weekend, my editor was told by a couple of Goldman employees that the reason the public ire toward Goldman was so intense was that to most people, Goldman's business (proprietary trading, investment banking, etc.) was an abstract concept that they didn't really understand.
As a result, it was easily reduced to caricature -- a soulless money-making machine, a bloodsucking squid on the economy -- and it was equally easy for the mind of the man on the street to convert that abstraction into another, even simpler one called "evil."
Things would be different, the Goldman folks said, if the company happened to own a good old American bank. You know, the kind that Goldman's rivals J.P. Morgan Chase (JPM, Fortune 500) and Bank of America (BAC, Fortune 500) own. The kind with an ATM on the street corner.
People are mad at their banks, sure, but they also know that a bank is just a bank, and not the evil dark force of international finance that is Goldman Sachs (GS, Fortune 500). Or so the thinking of the Goldman people goes. Their problem, in other words, isn't what they do, it's what they don't do.
We're not so sure about that.
For starters, banks of any stripe face significant public relations challenges in today's economic climate. Goldman Sachs might have cringed at having to submit to congressional inquiry in the Abacus affair, but unlike, say, J.P. Morgan Chase, they are not dealing with mortgage modifications, protestations over credit card fees and penalties, and overdrafts. Goldman may have had to submit to preening and posturing in front of lawmakers, but they have yet to deal with a certain spitfire by the name of Elizabeth Warren. Would they really wish all that on themselves?
Greener grass
A high-ranking J.P. Morgan Chase executive says Goldman better be careful what they ask for: "We have to deal with all the challenges that Goldman Sachs has to deal with as a wholesale trading organization, plus all the challenges that a big mortgage and consumer company goes through. From a public relations standpoint, we have the worst of both worlds."
The Goldman argument says that because of its retail brands, J.P. Morgan Chase has survived relatively unscathed in the midst of the negativity associated with the supposed bad actions of investment banks vis-à-vis the real estate bubble. Jamie Dimon and his team have advantages, they would say, in terms of both name recognition and comprehension.
And also in terms of the tools its management has at its disposal to communicate with broad swaths of the population -- consumer advertising or a four-color brochure with your bank statement. J.P. Morgan Chase can put full-page advertisements in the New York Times talking of the things the firm is doing to try to help the economy. That's obviously more difficult for Goldman.
"For a long time, there was little interest in the activities of investment banks," says Goldman spokesman Lucas Van Praag. "Now, understandably, there is a lot more. But in terms of communicating what investment banks do, it's a very steep hill to climb."
That depends who you're communicating to, of course. Investors still put a higher value on the business of Goldman Sachs -- its shares were trading at a price-to-book ratio of 1.13 as of Thursday -- than they do on those firms with retail banking operations, including J.P. Morgan (price-to-book: 1.00) and Bank of America (price-to-book: 0.75). When this storm passes, and it surely will, those Goldman employees will probably be happy that their company stock trades at a premium to its rivals. Hell, they're probably happy about it today.
What they're clearly unhappy about is the prying eyes of an angry public. But Goldman's problem isn't that it doesn't own a bank, it's that it has cultivated an institutional arrogance that it doesn't have to answer to anyone -- not the press, the public, or the politicians. And for Goldman to be called out on the carpet in front of the entire world had a galling effect that induced the schizophrenic impulse of going downmarket. The answer, we would suggest, is not to buy a retail arm, but to go private again.
But if they insist, if they absolutely insist on this retail fantasy, the answer is sitting right there in front of them in the form of a company called Fidelity Investments.
Go ahead, Goldman Sachs, and buy or merge with Fidelity. You'll get your retail arm. But it's doubtful you'll get the PR reprieve you're looking for.