3 easy steps to lowering your monthly bills
NEW YORK (CNNMoney.com) -- There are some things you can't live without but you can pay less for them.
Revisit your cell phone plan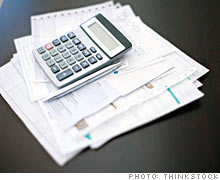 Are you paying too much for your cell phone or your credit card? Check out billshrink.com. This free Web site lets you enter in some information about your usage and compares this against other offerings in the market.
You'll get a personalized list of what other cell phone plans or credit cards would fit your needs - and an estimate of how much you would save annually by switching.
If you're in the market for a new cell phone, don't spring for the insurance. You'll likely spend more for the policy than you'll ever get back if you lose or damage your phone according to Consumer Reports.
Cut your auto insurance
If you're still driving around in a rust bucket, you may want to consider dropping collision or comprehensive coverage. According to the Insurance Information Institute, claims occur on average only once every 11 or 12 years.
You may also want to consider raising your deductibles. This will lower your costs substantially. Going to a $1,000 deductible can save you 40% or more.
And what you do for a living can help you shave some dollars off your insurance. Some insurance companies give discounts for people in certain low-risk professions in a few states. If you're an economist, an accountant or a teacher you may be able to reduce your bill.
Lower your prescription drug costs
Health care can be a huge drain on your wallet. But you can save money by knowing where to go.
Some big box stores like Kmart, Costco and Sam's Club have discount pharmacy services. Membership is not required to use the pharmacy services.
If you are uninsured or have no drug coverage, make sure to tell your doctor. You may be able to get a healthy dose of sample medication.
And think about pharmacy assistance programs. You may qualify for free or low-cost medicines. These are run mostly by drug companies. Keep in mind that you many have stringent income cut-offs at around $20,000 for a family.
For more information, check out RxAssist.com, Partnership for Prescription Assistance at pparx.org and needymeds.org.
Talkback: Have you gone to the pharmacy at a big box store?