How to hire, fire, and inspire Deli-style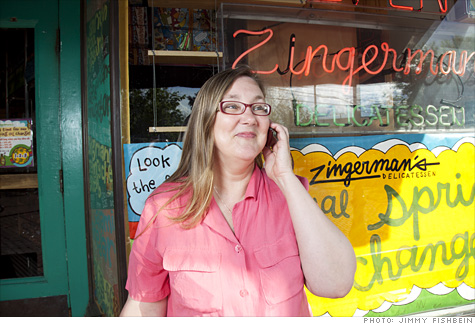 (Fortune Magazine) -- My first day of training started at 7:30 a.m. with two kinds of hash, fresh pineapple, melons, muffins, and bagels. The next day we noshed on make-your-own deli sandwiches and rich brownies. Yet I wasn't at a cooking school; I was at a two-day seminar on how to hire, fire, and inspire those around me. The sponsor was ZingTrain, the training arm of Zingerman's, a gourmet deli in Ann Arbor with its own candy company and bakery, and a cultlike following. One thing was clear: I wouldn't leave hungry.
The program, aimed mainly at managers and small-business owners, promised "tips, tools, and techniques" to be more effective at every step, from hiring to exit interview. The 15 participants included four managers from a pizza chain, a furniture store owner, two nonprofit executives, and me -- a journalist and co-owner of an Italian-ice-cart business, Mity Nice.
We listened as our leaders, Maggie Bayless and Pat McGraw, drew on Zingerman's 28-year-strong culture, discussing the "compact" in which employees take responsibility for their own training's effectiveness. To me, as both a manager and a careers writer, the hiring section seemed basic. Yet ZingTrain's tips for writing a great job description were helpful for my seasonal company. Zingerman's makes most potential hires work a trial shift on a busy Saturday, something I may experiment with. But I will skip its "Tilt-A-Whirl" simultaneous interviews with several candidates.
"Think outside the box," Bayless told us. A cliché, yes, but then she pointed to our magic pills, a.k.a. mint chocolate candies, and a grab bag full of prizes such as finger puppets and bouncy balls for coming up with "out of the box" ideas. I responded to the loot, particularly the promise of gelato if the class wrote down 65 such ideas. It's something I may try with my teen hires (though iced treats won't work as a bribe). The best ideas often came from the group, like asking job seekers to sell you a pen to observe their sales ability.
Sometimes training dragged, despite the constant sugar high. By mid-afternoon of the first day I was itching for my BlackBerry and longing for more varied approaches -- games, role playing, a short video? Yet most of my colleagues seemed happy. Paul Guse of Ian's Pizza felt the seminar reinforced and validated his ideas, and Bayless said that a large percentage of participants come back for seconds.
Though the seminar, like Zingerman's desserts, is a bit pricey and probably too basic for those at a very senior level, it did fill me up with many small gems, such as "going direct" when two workers tangle and giving lots of positive feedback. "What you recognize gets repeated," McGraw said. I am working on a 10-year vision statement and modeling Mity Nice's culture of responsibility and openness on Zingerman's. I am trying to be clear on goals and balance creativity with specific tasks. I said so in the last appraisal -- and for turning it in, I was rewarded with a loaf of bread and Zingerman's coffee beans. Yum.