A motorcycle on a mission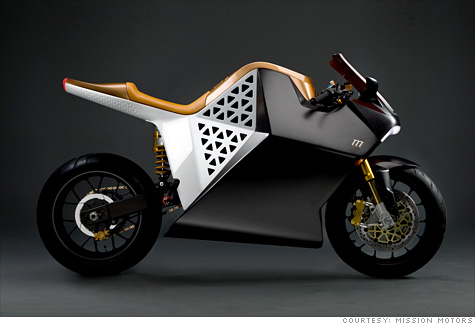 FORTUNE -- On the Bonneville Salt Flats, a prototype bike recently racked up a world speed record for electric motorcycles -- 150 mph. This is not your daddy's Harley. The interesting thing about it, however, is that the San Francisco startup that designed it is not really a motorcycle company. Yes, Mission Motors plans to start selling a limited number of the $68,995 bikes by mid-2011. But CEO Jit Bhattacharya sees his company as much more than that. In essence Mission is a software firm that will license cutting-edge electric power systems for all types of machines, from bikes to cars to lawn mowers. Mission takes the best lithium-ion batteries available and packages them with a proprietary cooling and management technology. Think of it as a green version of Intel Inside.
Why this strategy? A tough capital market is forcing more and more green startups to forgo building their own manufacturing facilities and to pursue licensing. A growing number of green-tech startups, including Innovalight and E-Solar, are for the most part taking a similar approach. Says Michael Kanellos, a senior analyst at Green Tech Media, an energy research firm: "At a time when it's tough for startups to raise serious capital, licensing is the fastest way to ramp revenues." Licensing, however, can be treacherous. A startup without deep pockets for legal help can lose control of its intellectual property. Also, it's tough to persuade skeptical executives to buy into a new technology.
Mission has a particularly steep challenge. According to the website earth2tech, at least 20 lithium-ion battery startups exist in the U.S. alone. That's where the motorcycle comes in. The superfast bike has attracted attention in the world auto press and has gotten Mission's managers invited to confabs such as TED and Fortune's Brainstorm Green conference, where they can hobnob with industry titans.
So far the gambit has worked. Mission, which has raised $2.5 million in funding, expects to sign a licensing agreement with the giant Chinese motorcycle maker Zongshen Power Machinery in June. Mission will help Zongshen integrate its battery technology into low-cost bikes. Mission gets access to Zongshen's capital, manufacturing, and distribution. Says Bhattacharya: "China already has 20 million electric bikes on the market, and many cities there have banned gas-powered bikes because of pollution. It's an incredible market for us." Not to mention a clever business model for growth.