Never let a good oil spill go to waste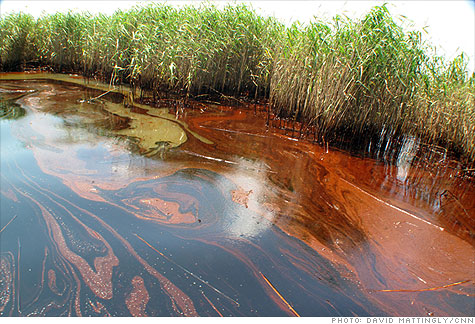 NEW YORK (CNNMoney.com) -- Never let a good crisis go to waste.
That's paraphrasing White House Chief of Staff Rahm Emanuel's supposed argument for sweeping reforms to the American economy amid the financial meltdown.
Now many say lawmakers are doing just that with the oil spill: failing to enact sweeping energy reform to wean the nation off fossil fuels while the public is fixated on events in the Gulf.
"This incident is a punctuation point," said Joseph Stanislaw, an independent energy adviser at Deloitte & Touche. "We've never had an energy policy, and we've been squandering opportunities for decades."
The energy policy favored by Stanislaw, many Democrats in Congress, and most renewable energy advocates, involves making fossil fuels more expensive either by adding some type of tax or putting a price on carbon emissions. That's designed to both reduce greenhouse gas emission by cutting the use of fossil fuels, and to make alternative forms of energy more competitive. The policy also involves requirements that utilities buy more clean energy, as well as lots of money for energy conservation.
A bill doing these things passed the House last year. It's unclear what the Senate will include, though any legislation will probably also include new drilling rules because of the BP spill. Senate Majority Leader Harry Reid says he wants ideas to him by July 4.
But unless more bipartisan support materializes, analysts say a broad bill including taxes and carbon limits has a slim chance of passing.
The Gulf oil spill is perversely part of the problem: Obama was planning on trading more offshore drilling in exchange for a tax on fossil fuels. That plan is now in doubt as more liberal members of his party shy away from offshore drilling.
Plus, concerns over the cost of such a broad energy policy, for consumers in general and coal-dependent Midwestern manufacturers in particular, continues to dog the plan. And there's a still a huge ideological gap between lawmakers who believe global warming is a problem and those that don't.
"U.S. climate change policy appears unlikely to materialize this year," Divya Reddy, an energy policy analyst at the consultancy Eurasia Group, wrote in a research note Wednesday.
To Robert Kaufmann, chair of the geography and environment department at Boston University, that's a shame.
The nation's current reliance on fossil fuels is not sustainable, and the BP accident only illustrates how important it is to shift to cleaner sources, said Kaufmann.
As conventional oil and gas fields become harder to find or are placed off limits to Western companies by OPEC nations, we have to go further afield to get our energy.
Witness the BP well, drilled in 5,000 feet of water. Or plans to tap resources under the Arctic ice. Or the need to crack shale rock with high pressure and chemicals to extract natural gas, a process some fear will contaminate drinking water.
"It's become more complex," said Kaufmann. "And the more complex it is, the more likely it is something will go wrong."
He said that while the BP (BP) spill is huge and capturing the media's attention, smaller spills happen all the time in far flung places, and we just don't hear about it.
"We have to start figuring out how to get away from carbon-based fuels," he said. "This is not a future for my children and grandchildren."
Others feel comfortable with carbon-based fuels as our children's future.
While the BP spill is unfortunate, it's the first big spill in U.S. waters since 1969, said Myron Ebell, director of energy and global warming at the Competitive Enterprise Institute.
Ebell thinks renewable energy isn't ready for prime time, no mater how much utilities are required to buy.
He also doesn't think global warming is a serious threat - not an opinion shared by most climate scientists.
"I think most of these claims are made up," he said. "Carbon dioxide is essential for life on earth."
To Ebell, a comprehensive energy policy would focus on developing the vast amounts of fossil fuels the United States still has left - whether that's more drilling off the coast of California or tapping more shale gas on public lands in the Rocky Mountain states.
The direction that the nation ultimately takes depends in large part on President Obama.
Last week Obama said the votes probably aren't there to pass the broad Senate bill, but he pledged to personally "find them in the coming months."
"We will get this done," he said.
But so far, the White House and Democrat leaders in the Senate haven't expended much energy in mustering up those votes.