Lawmakers to BP: Put up $20 billion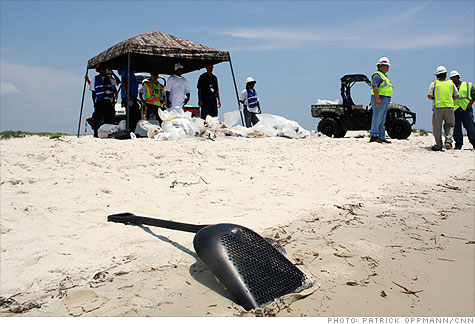 NEW YORK (CNNMoney.com) -- BP: Kick up $20 billion to pay for the recent oil spill in the Gulf region. And make it snappy.
That's the message Senate majority leader Harry Reid and members of the Senate Democratic Caucus sent to BP CEO Tony Hayward in a letter on Monday.
"Establishment of this account would serve as an act of good faith and as a first step towards ensuring that there will be no delay in payments or attempt to evade responsibility for damages," the letter said.
But it maybe hard for BP to comply: The London-based company only had about $7 billion in cash as of March 31, according to its most recent financial statement.
London-based BP (BP), which held a board meeting on Monday, is weighing whether to issue its $2.4 billion second quarter dividend, which is set to be paid out in August. BP said on Friday it has not made any decision regarding the payment and that the matter "will be decided sometime between now and July 27." (See correction, below.)
A spokesman for Reid said that the proposal has not yet specified whether the $20 billion would be requested as a lump sum or by installment payments.
Regardless, the senators want to ensure another Exxon situation isn't forthcoming. Their letter pointed out how Exxon failed to live up to its initial promises to make reparations.
"After the Exxon Valdez tanker spilled more than 11 million gallons of oil into Alaska's Prince William Sound, damages totaled more than $7 billion; although Exxon continued making massive profits after the accident, it fought liability at every step and ultimately paid far less than the billions of dollars worth of damages it had caused many, many years later."
The special account would be managed by an independent third party, according to the letter, and would pay for clean up costs and lost compensation to individuals and businesses affected by the oil spill.
BP has taken some heat for spending millions of dollars on television ads to tout their commitment to the clean-up efforts in an effort to restore their bruised and battered public image. The senators said that putting cash up would be a good start to restoring the company's face.
"Although creating this account at this level in no way limits BP's liability, we believe it will do more to improve BP's public image than the costly public relations campaign your company has launched."
All Democratic senators signed the letter with four exceptions: Mary Landrieu, D-La.; Kent Conrad, D-N.D.; Robert Byrd, D-W.V.; and Jeff Bingaman, D-N.M. Notably, Jeff Bingaman is the chairman of the Senate Committee on Energy and Natural Resources. And Mary Landrieu is the chairwoman of the Senate Committee on Small Business and Entrepreneurship and the senator from the state most affected by the oil spill.
Senator Landrieu agrees that BP should put money into an escrow account, but she thinks Congress needs to think very carefully about what amount is appropriate for the Gulf and for BP.
"An escrow account should be established, but it must be done in a way that ensures BP remains viable enough to pay every penny of what they owe to those who have been affected by this horrific spill and tragedy," Landrieu said in a prepared statement. "The worst-case scenario is BP declaring bankruptcy before our citizens are compensated for the tremendous damage the company has inflicted on our fragile coast and economy."
As the Senate Democrats send a letter off to BP, Obama is making his fourth visit to the Gulf region since the April disaster. On Tuesday, he'll return to Washington, D.C., to deliver an 8 p.m. ET televised address on the oil spill.
The senators have requested a response from BP by Friday.
-- CNN's Dana Bash contributed to this report.
Correction: An earlier version of this story incorrectly stated which quarterly dividend is in question. (Back to story.)