IPhone 4 stampede tramples AT&T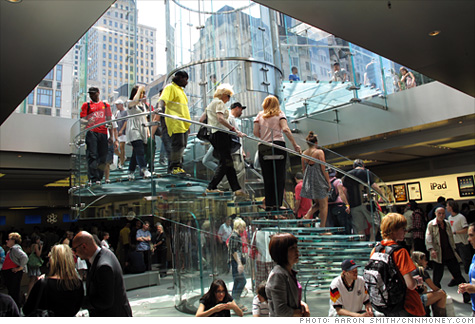 NEW YORK (CNNMoney.com) -- Customers eager to buy Apple's new iPhone 4 experienced massive and widespread difficulties when attempting to pre-order the smart phone on Tuesday, the day it went on sale.
Users trying to order the iPhone on Apple's website received an error message: "Your request couldn't be processed. We're sorry, but there was an error processing your request. Please try again later." Attempts to preorder from AT&T's website yielded similar error messages.
Calls to AT&T's customer service line returned a pre-recorded message saying that the company was facing extremely heavy call volumes. A new Apple app, launched Tuesday morning, that allows existing Apple customers to use their iPhone or iPod to pre-order the iPhone 4 was offline by mid-afternoon. Twitter, recovering from its own crashes earlier in the day, lit up with accounts from frustrated iPhone shoppers.
Even AT&T's retail stores were unable to order new iPhones for customers. The computer system at an AT&T store near Manhattan's Grand Central Station remained crashed late Thursday afternoon, forcing workers to take orders manually on paper. More than two dozen shoppers were queued up, waiting for their turn to order.
"Because of the incredible interest in iPhone 4, today was the busiest online sales day in AT&T history," AT&T (T, Fortune 500) spokesman Mark Siegel said.
As a result, AT&T said that not all customers who preordered their phones on Tuesday would receive them on June 24, the first day the phone is set to appear in stores.
"As of Tuesday afternoon, customers who preorder iPhone 4 moving forward will receive their device on June 25 or later, depending on when the order is placed," Siegel said.
That could lead to crankiness from customers who tried to order early in the day but ran into system failures.
An AT&T store in downtown Washington, D.C., has its ordering system crashed between 10:30 a.m. and 1:30 p.m. ET. During that period, the store's employees took orders on paper for about 100 customers, which they began entering into the system manually in the late afternoon after the system came back to life. If there are any shipment delays, those early-birds would, ironically, receive their iPhones after the stragglers.
An AT&T retailer in Times Square resorted to recording pre-order information manually for a few hours Tuesday morning, but its systems were working again by the end of the afternoon. Vanessa Sosa, a senior sales consultant at the store, attributed the outage to the stampede of buyers hitting AT&T's system all at once, across the United States.
At AT&T's store at Broadway and 55th Street in Manhattan, customer Mark Rousso described a three-hour odyssey to secure his pre-ordered phone.
He arrived at the AT&T store around noon and learned that wait times were averaging over an hour. Rousso detoured to a nearby Apple store -- where the ordering process was at a complete standstill. The store's computers were down, said a worker who suggested Rousso go home and pre-order the phone online.
So Rousso did that, only to find that he couldn't put through an actual order. All he could get was a non-guaranteed "preauthorization" for the purchase. Frustrated, Rousso went back to the AT&T store he'd started at earlier in the day. This time, his pre-order finally went through.
At Apple's flagship Fifth Avenue shop, a line dozens of shoppers deep snaked through the mobbed store. Crystal Castro, who emerged victorious in her fight for a pre-order, came to the store after failing to get her reservation through on Apple's website. But once she arrived, the process moved fast: Castro said it only took about 15 minutes to order the new phone, an upgrade from her current iPhone.
Apple did not return a call for comment.
AT&T noted that the iPhones will be available in retail stores next week "on a first-come, first-serve basis." That will likely set off another deluge on June 24, as hopeful iPhone customers line up early to snag the coveted phones.
AT&T and Apple: A troubled marriage
Steve Jobs unveiled the phone at the Apple's annual Worldwide Developers Conference last week. The iPhone 4 has about 100 new features that aren't available in the current iPhone 3GS, including a higher-resolution screen, a better battery, a 5 megapixel HD photo and video camera, the ability to make video calls and a thinner, more industrial look.
One feature that iPhone fans didn't get -- but one that many have been clamoring for since the first iPhone debuted in 2007 -- was a new network.
AT&T and Apple (AAPL, Fortune 500) have had a difficult relationship over their three-year partnership. The network's spotty 3G service, particularly in New York and San Francisco, has become the butt of late-night jokes, been mocked in Verizon (VZ, Fortune 500) commercials and even inspired an ill-fated Facebook campaign to bring down the network, called "Operation Chokehold."
The top reason consumers who are in the market for an iPhone decide to pass is AT&T's 3G network problems, according to a CFI Group study.
Last week, a hacker group called Goatse Security exploited a vulnerability on AT&T's website to harvest 114,000 e-mail addresses that Apple's iPad 3G buyers provided to activate their devices.
-- CNNMoney.com staff writer Aaron Smith and CNN's Jeff Simon contributed to this report.