BP slashes dividend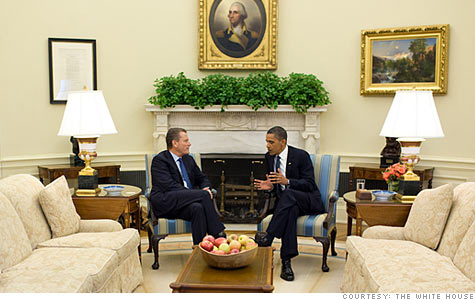 (FORTUNE) -- BP ended weeks of speculation Wednesday by canceling its quarterly dividend for the rest of this year.
Chairman Carl-Henric Svanberg said the London-based oil giant made the decision after a White House summit with President Obama. The company agreed to set aside $20 billion over four years to pay claims tied to a massive oil spill on a deepwater well it was digging.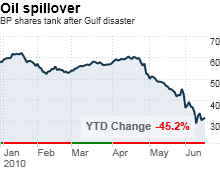 Svanberg said the company made the decisions because "we care about the small people" affected by the spill in the Gulf of Mexico.
The decision to create the fund came as a result of "negotiation with the U.S. government officials," chief financial officer Byron Grote said on a conference call with investors and analysts.
He said he believed the decision would "provide comfort to debt and equity markets" by "creating clarity for individuals, businesses and the government."
Indeed, shares of BP (BP) -- which have lost half their value since the April rig explosion killed 11 workers and injured 17 -- rose as much as 4% after the company announced the dividend suspension. The stock finished the day up 1.4%.
BP said it remains devoted to paying a dividend and promised to revisit the issue next year, when it expects to have a better idea of how big its cleanup and legal bills will be.
But for now, the company said, it is more important to make clear that the company has the financial wherewithal to clean up its giant mess.
"From the outset we have said that we fully accepted our obligations as a responsible party," CEO Tony Hayward said in a statement. "This agreement reaffirms our commitment to do the right thing."
Also boosting the shares were reports that the giant bond fund Pimco was buying the firm's bonds, which have been under enormous stress amid worries about the company's solvency.
Wall Street has been consumed with the question of how much BP might be able to shell out without risking bankruptcy. The company has been bringing in between $26 billion and $36 billion annually in pretax profits over recent years, and was set to pay out $10 billion to shareholders this year through dividends.
Canceling that dividend will help the company raise money for the fund. BP also said Wednesday it plans to raise $10 billion over the next year by cutting back on capital spending and selling some oil production assets.
"We're taking a very financially prudent position because of the uncertainties," Grote said. "Once we've finally got the well under control, we will be able to see what an appropriate pathway for the firm is next year."