BP's influence in Washington fades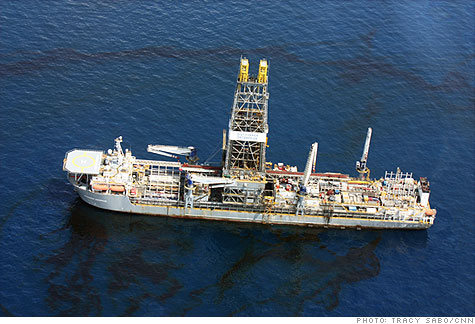 FORTUNE -- Since April 20, all eyes have been on BP's efforts -- or lack thereof -- to clean up the massive oil spill in the Gulf of Mexico. What isn't as evident to many is the monumental effort BP is putting into cleaning up its image in Washington.
With a slew of lawsuits pending in numerous federal courts, and gaffe-prone CEO Tony Hayward set testify before Congress on Thursday, this week will be a marker of whether BP's Washington muscle can help pare back some of the more extreme punitive measures lawmakers are calling for. Among the claims it will try to fight: the Obama administration's demand that BP create a multibillion-dollar fund to pay for oil spill damages.
As a long-time titan in Washington lobbying, BP is well positioned to repel federal scrutiny. The company spent nearly $16 million last year to influence Congress and the executive branch and that rate of spending hasn't slowed down this year. During the first quarter of 2010, it ranked second among all oil and gas interests spending, racking up $3.53 million on federal lobbying.
While BP (BP) has long had deep political pockets -- BP and its employees gave $500,000 to federal candidates in 2008, with President Obama being the top recipient, according to the Center for Responsive Politics -- now more than ever, it is relying on its politically connected lobbying and battle hardened PR machine, which has received a formidable set of recent upgrades. But its success on Capitol Hill in the past may have little bearing on whether or not BP is able to sway lawmakers in the wake of the worst spill in American history. Money buys less influence when it's covered in oil.
Still, BP is trying. Leading the offense for the company are A-list lobbyists like Tony Podesta, brother of John Podesta of the Center for American Progress. In a curious twist, John Podesta is rumored to be scripting the White House response to the spill.
BP has also hired Hillary Rosen, managing partner at Brunswick Group, who is best known for her lobbying on behalf of the music industry. In recent weeks, it also brought in bipartisan media firm Purple Strategies. Republican media strategist Alex Castellanos, a long-time GOP presidential campaign advisor and Democratic consultant Steve McMahon, former advisor to then-presidential candidate Howard Dean, lead the firm, which helped produced a television ad featuring Hayward.
The company also recently enhanced its in-house operation by hiring Anne Womack-Kolton, former press secretary to Vice President Dick Cheney, to lead the company's U.S. media relations.
More regulations ahead
BP hasn't had to go it alone in Washington. The company has had a strong assist from its industry trade association, the American Petroleum Institute. Since the spill, API has tried to get ahead of the crisis, devoting a portion of its website to questions and answers about the oil spill. And while API has long been opposed to the Obama administration's energy policy, the trade group is now working in tandem with the White House to review oil drilling procedures and the equipment used for deep-water drilling.
API also launched an ad campaign last week trying to highlight how rare oil spills are. "Nothing like the Deepwater Horizon spill has ever occurred in more than 60 years of oil and natural gas exploration in U.S. waters of the Gulf of Mexico," the ad says. "We have already assembled the world's leading experts to conduct a top-to-bottom review of offshore drilling procedures, from routine operations to emergency response."
So far, BP and API have both been careful about walking a fine line on future regulation. Both have said they do not oppose new safety regulations. However API's website states it has "expressed concern to the government about the potential effectiveness of the proposed safety regulations."
Despite the coordinated effort, BP's public relations offensive hasn't been without missteps. While BP's Hayward is largely responsible for the company's beefed up presence in Washington, he's regularly been targeted for misinforming the public to try to stymie stock drops and for making insensitive comments to reporters saying, "I'd like my life back." (See also: Tony Hayward's greatest hits)
The increased scrutiny comes as the oil and gas industry was already facing the prospect of more regulation. Congress had already been examining the environmental impact of hydraulic fracturing, a process that uses water pumped at high pressure to free natural gas from beneath rocks. The Interior Department called for drilling in waters deeper than 500 feet to stop for six months, and many within the industry are worried the ban could be extended until after an appointed commission provides an analysis of the spill.
No longer a united front
Despite the mounting challenges, the oil and gas industry has already had some success in pushing back against future regulation. After leaning on Gulf state lawmakers to make the argument that offshore drilling is a major source of the economic vitality in the Gulf, Interior Department officials carved out an exemption to the moratorium for companies drilling in shallow waters.
And if the past is an indicator of how BP will address this crisis, the company will oppose further regulation. BP, along with other oil companies, opposed stricter safety standards proposed by the agency that regulates offshore drilling as recently as last September. Richard Morrison, BP's vice president for Gulf of Mexico production, wrote to the U.S. Minerals Management Service saying that the voluntary safety procedure system was working. Morrison wrote that while BP "is supportive of companies having a system in place to reduce risk, accidents, injuries and spill, we are not supportive of the extensive, prescriptive regulations as proposed in this rule."
BP could face even more opposition in DC as the oil and gas industry loses its solidarity. Industry execs from Exxon Mobil (XOM, Fortune 500), Shell (RDS-A), ConocoPhillips (COP, Fortune 500) and Chevron (CVX, Fortune 500) distanced their operations from BP while testifying on Capitol Hill on Tuesday.
But legislators weren't buying it. "They will say a similar disaster could never happen to them," said Rep. Ed Markey (D-Mass.) of the executives' testimony. "Yet it is this kind of blind faith -- which is the actual name of a rig in the Gulf -- which led to this disaster."