The Huntsmans: Inside an American dynasty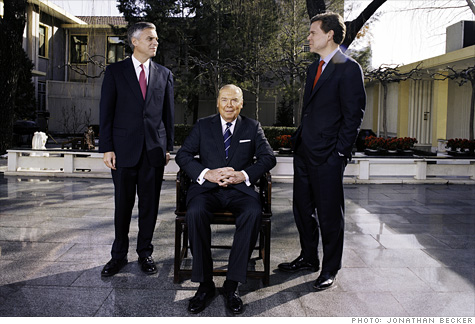 FORTUNE -- Jon Meade Huntsman Sr. brought us Styrofoam egg containers before his 30th birthday and the famed Big Mac "clamshell" sandwich container by his 40th, somehow finding time in between to serve in Nixon's White House. By middle age his close circle of friends included Margaret Thatcher, Singapore's Lee Kuan Yew, and Dick Cheney. Along the way he raised nine children: His eldest -- a former Utah governor -- is now the U.S. ambassador to Beijing, while son No. 2 succeeded him as CEO of Huntsman Corp., a global chemical company with about $8 billion in revenue.
Those accomplishments alone would qualify the industrialist for a place in the annals of entrepreneurship, and indeed, today he is one of the world's richest self-made men, reportedly with a net worth of more than $1 billion. But what makes Huntsman, 73, a true American original is the unparalleled tenacity with which he built -- and repeatedly rescued -- his business empire, mortgaging his own homes or putting up his own money (along with bondholders') along the way. Just two years ago, long after he'd retired as CEO of his eponymous company, he personally went to battle with private equity lion Leon Black, whose Apollo Management backed out of a deal to buy Huntsman Corp. -- and won.
The company celebrates its 40th anniversary this year, and Jon Sr. and his family agreed to a rare series of interviews to tell the Huntsman story: the rise and fall of the corporation and life inside an iconic family dynasty that's one part Marriott (MAR, Fortune 500) (another business clan with Utah roots) and one part Kennedy (only Republican).
I am now on the elder Huntsman's Gulfstream IV over China, where the company has sizable operations, and Huntsman the humanitarian is holding forth: He reminds me that he's given away $1.2 billion in the past 10 years to universities and a renowned cancer research center, among other causes.
But it is only a matter of time before the executive reveals another side of his complex personality -- that of an unabashed capitalist who took huge risks and strong-armed rivals, financiers, and even his own son in his quest to build his business and philanthropic empire. "You're in the game of life to fight," he says. "If you're in business and you're not aggressively building, you shouldn't be in."
Huntsman, who remains executive chairman of the corporation and whose family and foundation hold a 20% stake in it, wasn't just aggressive, he was audacious, leveraging his company in ways not unlike U.S. banks did before the financial crisis. To finance a bold acquisition spree -- Huntsman (TK) gobbled up more than three dozen companies in one decade alone -- he took on piles of high-interest debt: At one point the company's debt was a whopping 15 times greater than its cash flow.
At first Huntsman insists to me that he "didn't have a choice" in leveraging the business, that he started with nothing, that he was rapidly building a global concern and doling it out just as fast to charity. Of course we both know that Huntsman did have a choice: No one else could have put his corporation on a path of growth that would ultimately threaten his company and thousands of employees. I press him on the point, and the real Jon Huntsman emerges again. "It's a game!" he declares before issuing a sharp, jarring laugh. "You call it ego. Okay. I call it sportsmanship, competition. I'd do it all over again."
So there it is. This is the message -- as much as family loyalty or the importance of charity -- that this descendant of Mormon pioneers has bequeathed to his nine children, their spouses, and 56 grandchildren. In addition to 47-year-old Peter, the Huntsman Corp. CEO, half-a-dozen other sons and sons-in-law work for assorted family enterprises. David, 42, is at the helm of an ambitious destination resort under construction in Driggs, Idaho. Paul, 40, is part of a $1.1 billion Huntsman private equity partnership. James, 39, did a brief stint as a Hollywood producer before rejoining Huntsman Corp. as an officer. Son-in-law Richard Durham is a former Huntsman CFO who now runs an investment firm. And one grandchild, this time a woman, is determined to pursue the family business: Peter's 18-year-old, Caroline.
At the helm is a patriarch who combines wily charm, street smarts, entrepreneurial vision, political connections, and certainty that his success rests on a willingness to do battle, alone, against often hostile outsiders. "Everyone has always underestimated a company headquartered in Salt Lake City, Utah," Jon Sr. says. "The New York boys thought they could take me on, that nobody out here has any knowledge or wisdom."
The elder Huntsman's single-mindedness has earned him the admiration and devotion of his offspring, who by all accounts have sidestepped the lawsuits and public brawls that bedevil other American dynasties. But don't look for the same fire from this generation of Huntsmans. In their words, actions, and personalities it is clear that the children -- ambassador Jon Jr., 50, and Peter in particular -- admire but don't seek to emulate their father's way of doing business, opting for management styles that are more inclusive and visions that are more grounded. "I won't say I'm not a risk-taker, but I wouldn't bet the farm 20 times over, like my father did, to get this company going," says Peter. "There were times he leveraged this company up to the absolute hilt. When he'd win, he'd win big. But he's lost a lot more than he's won."
Read the full version of The Huntsmans: Inside an American dynasty