Obama's (Republican) man in Beijing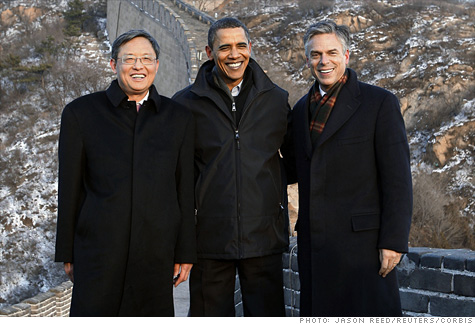 FORTUNE -- Jon Huntsman Jr., 50, should have been safely ensconced for a second term in the Utah governor's mansion, enjoying his popularity with the state's voters and weighing his 2012 prospects as a GOP presidential nominee. Instead President Barack Obama astutely took a well-financed potential opponent out of the running by tapping him as U.S. ambassador to China. Now Huntsman, on the job nearly a year, is at the center of America's most important, delicate, and fraught economic relationship in the world.
When he's not in closed-door negotiations, he treats the job as if he's still on the campaign trail -- only the candidate is America and the voters are the Chinese people. His staff bypasses official Chinese press coverage by posting his speeches and appearances on the embassy's website -- hoping for pickup by the nation's more than 300 million Internet users. And Huntsman campaigns far outside Beijing, where "there's a reservoir of deep goodwill. You speak from the heart, and hopefully the people walk away thinking well of the U.S."
That's exactly what the ambassador attempts on a frigid March morning in Zhengzhou, a gritty industrial city not found on many tourist maps. Officially Huntsman is here to celebrate the launch of a U.S.-China tuberculosis research effort. But this event could just as easily be an Iowa campaign rally. We are greeted by girls dressed like county-fair queens, rows of neatly turned-out nurses in white, and local officials in gray. Cannons stand by to explode rainbows of confetti.
Huntsman's Mandarin, which he learned during his two-year Mormon mission to Taiwan, is so fluent that he cracks jokes and engages in politician-style flattery: "Your province is so steeped in history it would take a two-month visit to do it justice!" he declares. Chinese locals love the fact that he has an adopted Chinese daughter, Gracie Mei, featured on a postage stamp in Yangzhou, the city of her birth. But then, Jon Huntsman Sr.'s eldest son was born for the stage. In high school he played keyboard in rock bands; as governor he once performed with REO Speedwagon. (On his iPod today? Rachmaninoff to Foo Fighters to Smashing Pumpkins.) He also carries the Huntsman appetite for risk and competed in motocross until, he confesses, "I turfed too many times."
Those daredevil instincts extend to his politics. In this polarized political environment, Huntsman stretches the cloth of any GOP big tent. While he cut taxes and effectively managed Utah's budget, Gov. Huntsman supported gay unions, happily took Obama's stimulus money (wanting more), and is a skeptic of both the Iraq and Afghanistan wars. One of his last acts in his first term as Utah governor was to loosen the state's strict liquor law.
Indeed, unlike his more devout brothers, who are officials in the Church of Jesus Christ of Latter-Day Saints, Jon Jr.'s Mormon credentials are soft. "I can't say I am overly religious," he says, noting that his children attend Catholic schools and that one of his adopted daughters was born into a Buddhist culture and another comes from the Hindu tradition. "I get satisfaction from many different types of religions and philosophies."
Huntsman's path to a Beijing posting began in the Nixon White House, where he would visit his dad, then an aide to the President. One Saturday, Henry Kissinger asked him to carry his briefcase out to the car. When the 10-year-old asked where he was going, the Secretary of State answered, "China, but don't tell anyone." This bit role in Kissinger's top-secret mission to pave the way for normalized relations with Communist China is a proud piece of Huntsman family lore. Last year, when Kissinger took Huntsman to lunch at the Metropolitan Club in Washington, he said that he understood -- via President Obama's jokes about the Nixon-era legend -- that he was now supposed to carry the younger man's bags.