The dollar's strong (but not the one you think)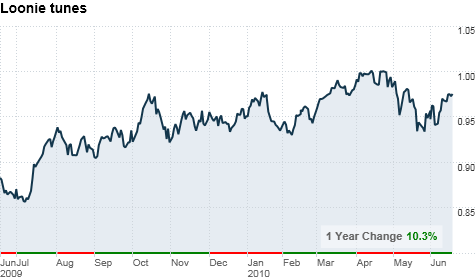 NEW YORK (CNNMoney.com) -- There has been a lot of talk lately about how strong the dollar is. But if you're looking for a real strong dollar, just gaze north.
Sure, the greenback has done great against the euro. But that's not saying much. The U.S. dollar is still a proverbial 97-pound weakling compared to the Canadian dollar.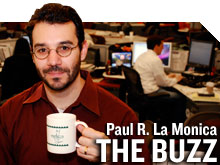 Canada's dollar, commonly referred to as the "loonie" since the coin features an image of a loon on the back, has been trouncing its counterpart below the 49th parallel. It's up 3% against the greenback so far this year and 10% over the past 12 months.
With that in mind, some experts say that investors looking for safe havens should buy Canadian.
That makes sense. After all, Canada's economy is in healthier shape than the U.S. right now. Its unemployment rate is 8.1% compared to 9.7% in the U.S. Canada's gross domestic product rose at a 6.1% annualized rate in the first quarter compared to a 3% increase in GDP for the U.S.
"Canada is in much better shape than other countries around the world. It's not just a recovery, but an expansion," said Pierre Lapointe, global macro strategist with Brockhouse Cooper, a brokerage firm in Montreal.
Lapointe said that part of that has to do with the booming commodities market. Canada has ample gold reserves and also exposure to oil in the tar sands in Alberta.
He noted that many of the companies listed on Canada's benchmark TSX index are tied to the gold mining and oil industries.
With gold at record highs and oil starting to creep back towards $80 a barrel, Canada's stock market has held up much better than others during the euro-induced volatility of the past few months.
The TSX is down just 1.7% since the start of May while the S&P 500 has fallen nearly 6%, for example.
But Canada also avoided many of the nasty real estate problems that dragged the U.S. into recession.
The five largest Canada banks -- Royal Bank of Canada (RY), Bank of Nova Scotia (BNS), Toronto Dominion (TD), Bank of Montreal (BMO) and Canadian Imperial Bank of Commerce (CM) -- are widely regarded as being in much better position than the top banks in the U.S..
"The recession was milder since Canada's banking system is fairly healthy," said Paul Ashworth, senior economist with Capital Economics, a research firm based in Toronto. "Canada never had a housing downturn that was anything like what happened in the U.S."
Some Canadian companies have even tried to capitalize on this image of financial strength in their ad campaigns. Toronto-based insurer Sun Life Financial (SLF), which has a big presence in the U.S. and even has the naming rights for the Miami stadium where the Dolphins and Marlins play, boasts in commercials that it didn't take any government bailout money.
That's all well and good. But will Canada keep attracting strong investor interest or is the fact that Canada isn't the U.S. already priced into their currency, stocks and bonds?
Ashworth said that the rise in gold, which is partly a fear trade, has certainly helped Canada. So if gold prices cool, that could hurt the Canadian dollar.
But he said that if gold falls on hopes that the global economy is going to avoid another major meltdown, the trade-off would probably be higher oil prices. That could offset any weakness in gold.
"The bottom line is that the loonie is still a petro currency," he said.
So as long as the Canadian economy holds up, there is a good chance that Canadian assets could continue to perform well. After all, Canada's central bank took the first step towards bringing interest rates back to normal earlier this month.
The Bank of Canada boosted rates by a quarter-of-a-point to 0.5%. That makes Canada the first of the so-called G-7 group of industrial nations to raise rates since the onset of the global financial crisis in 2008.
Stefane Marion, chief economist and strategist with National Bank Financial Group in Montreal, points out that the Bank of Canada is likely to raise rates again next month. And that's lifting bond rates in Canada.
The difference between the yield on 2-year Canadian bonds and the 2-year U.S. note is about a full percentage point. In other words, investors believe they'll be able to get a better rate of return in Canada because the economic fundamentals look stronger.
"Gone are the days when foreign investors thought of North America as only the U.S.," Marion said. "People are discriminating between Canada and the U.S. There's probably limited downside for the Canadian dollar and other assets unless there's a major global economic relapse."
Reader comment of the week. To quote Hannibal from "The A-Team" (and did they really need to make a movie of the TV show?), I love it when a plan comes together. This week's best reader retort fits perfectly with the theme of today's column.
I wrote on Monday about how Brazilian oil company Petrobras could benefit from the BP fiasco in the Gulf of Mexico. Paul Dupuis took issue with that.
"Why would you suggest Brazil when there is over a trillion barrels in oil reserves in Alberta??? No drilling in water here and we are already are the largest supplier of oil to the U.S.," he wrote.
Well said.
- The opinions expressed in this commentary are solely those of Paul R. La Monica.