Nevada takes dubious jobless title from Michigan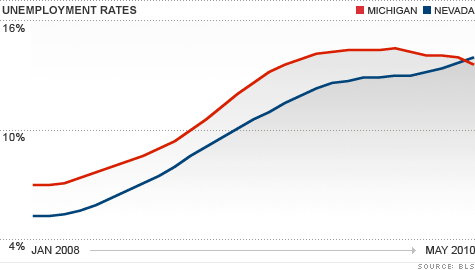 NEW YORK (CNNMoney.com) -- Nevada's jobless rate hit a record high last month and and is now the highest in the nation, the first time in four years that Michigan doesn't hold that distinction, according to a government report released Friday.
The Silver State's unemployment rate climbed to 14% in May, the highest in the state since 1976 when the Labor Department began collecting the data. It was up from 13.7% in April.
Meanwhile, joblessness slipped to 13.6% from 14% the previous month in Michigan, which has been ravaged by the struggles of the auto industry. The state has been the leader in unemployment rate since April 2006.
During the last year, Nevada has lost a net total of more than 29,000 jobs, and posts the highest percentage increase in unemployment at 2.5%.
"So much of Nevada's economy is tied to the gaming industry and housing sector, which continue to weigh on Nevada's labor market across the board," said Mark Vitner, senior economist at Wells Fargo. "Consumer spending on travel and leisure is still in a pullback, and while the housing market is no longer in a free fall, there are still a lot of vacant homes in Nevada."
Senate Majority Leader Harry Reid, D-Nev., also said in a statement that mounting unemployment in the state is a sign that Nevada continues to suffer from extreme economic conditions.
"This increase in our unemployment rate only emphasizes the need to diversify our state's economy and create jobs," said Reid, who is in a difficult fight for re-election.
Though it's still the second highest in the nation, Michigan's unemployment rate has improved after peaking at 14.5% in December.
"Auto sales and production are up, and that has helped generate a little improvement in Michigan," said Vitner, highlighting that the state added 4,500 manufacturing jobs in May, likely due to hiring at auto plants.
Meanwhile, a majority of U.S. states welcomed lower unemployment rates last month, the report said.
A total of 37 states and the nation's capital posted declines in jobless rates in May on a monthly basis. Unemployment increased in six states and seven states reported no changes.
On an annual basis, the job market is still sluggish. Joblessness climbed in 31 states and in Washington, D.C., from a year earlier, and only eased in 17 states.