What BP was missing on Deepwater Horizon: a whistleblower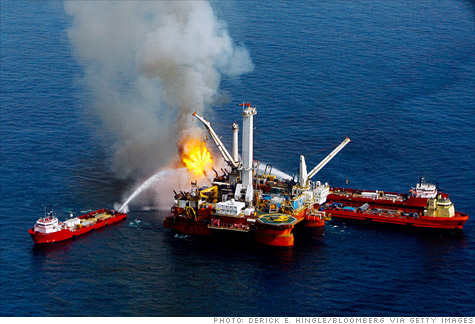 FORTUNE -- The opening letter from BP CEO Tony Hayward to the BP Code of Conduct reads: "If you are unsure of what to do in particular circumstances or concerned that the code is being broken, you have a responsibility to speak up. The code explains the mechanisms to do this . . . and the protections to ensure that retaliation against those who do speak up will not be tolerated."
"BP's commitment to safety means each of us needs to be alert to safety risks as we go about our jobs....Always... Stop any work that becomes unsafe," reads part of the health and safety section of that code.
Tony Hayward, in testimony last week before the House Energy and Commerce Subcommittee on Oversight and Investigations, said that anyone can stop the drilling, and so have his underlings.
This is the gold standard of safety that any corporation should aspire to. So why the dissonance between what was on paper, and what actually took place on the Deepwater Horizon, where safety problems were known about for several weeks before the explosion?
To ensure that their rigs and refineries and their clean-up operations are safe going forward, the board of directors of BP (BP) will need to answer this question and understand what needs to happen to create a culture of responsibility and non-retaliation.
Lessons from NASA's Challenger incident are relevant here. Then NASA Administrator Michael Griffin sent a message to NASA employees in January 2008 in remembrance of the Challenger that partially read: "When we investigate [accidents], we always find that there were people who did see the flaw, who had concerns which, had they been heard and heeded, could have averted tragedy. But in each case the necessary communication -- hearing and heeding -- failed to take place. It is this failure of communication, and maybe the failure of trust that open communication requires, that are the true root causes we seek."
The ability to ensure individuals voice safety concerns and that managers appropriately respond is a complex issue -- and one that is worthy of study. If it were simple, it would have been solved. But as Michael Griffin's statement outlines, it is one requiring continuing attention. It goes beyond the engineering missteps and solving those issues. It is a human issue all organizations face and one all boards should examine and exert vigilance in overseeing.
What can impact the ability of a company to instill the proper disciplines? There are several key principles that boards need to recognize in setting the culture and the tone at the top:
1) Outsiders and those that view themselves as such are more likely to speak up than those involved in the environment and the decision making mix.
WorldCom is a great example. At WorldCom, the whistleblower, Cynthia Cooper was an internal auditor, an outsider, by definition, to the finance and operating functions, an outsider to the pressures placed on others to achieve certain earnings results.
For individuals working on an oilrig, real physical obstacles impede going outside the chain of command. The individuals there spend long periods of time together, in close quarters, far offshore. Achieving a sense of independent thinking can be difficult, in a risky environment, when individuals are dependent on each other. Likewise, independent thinking is difficult if you fear retaliation or there is high risk of losing your job. Even if you don't have those concerns, however, independence can be difficult. Even with a separate entity it can be difficult. Independence and arms length relationships with management are frequently cited as important issues boards must wrestle with in adequately performing their oversight duties.
2) The smaller the environment and the community involved in making a decision, the less likely there will be a whistleblower.
These issues are amplified when the individuals operate in relative isolation. Oil rigs are an instance of this - where workers live and work together in isolation, in a small space and develop a sense of camaraderie and shared experience. Boards, themselves, are another instance of this, a small group with a strong group identity, one in which a sense of belonging to that group is important to the members. Whenever people are in a small group and know they will see each other on an ongoing basis, trying to retain good relationships for the next encounter is natural and can inhibit making waves or raising problems.
3) Professional standards and codes of ethics are essential.
However, individuals must achieve a sense of allegiance to those codes and professional standards that is greater than the pressure for allegiance to the group in which they work. For example, as a general matter, engineering organizations have codes of ethics. The Code of Ethics for the members of the American Institute of Chemical Engineers states that they shall "Hold paramount the safety, health and welfare of the public and protect the environment in performance of their professional duties".
The Society of Petroleum Engineers has a similar statement in its Guide for Professional Conduct. The National Society of Professional Engineers has both a Code of Ethics and Board of Ethical Review. The Association of Safety Engineers has a professional code of conduct and the American Petroleum Institute has a set of Environmental Principles. Again, to be effective, however, individuals must feel allegiance to their professions and the responsibilities embodied in those codes.
4) Besides apprising workers of their responsibility to come forward, protections against retaliation are important to ensure they talk.
Currently, several whistleblowers have come forward on other matters of interest related to BP (including another Gulf well) and have said they have suffered retaliation for doing so. Related to Deepwater Horizon: "The rig survivors ... said it was always understood that you could get fired if you raised safety concerns that might delay drilling. Some co-workers had been fired for speaking out, they said." All boards need to take statements such as these very seriously as they do impact whether or not individuals will speak up.
In his testimony before Congress last week, Tony Hayward said that why no one spoke up would be the important question to be answered by BP's ongoing investigations. He and Michael Griffin would agree on that. Congressman Henry Waxman in the hearing said operating in deep water is like operating in space. The very nature of oil rig deepwater drilling -- and space travel -- with their inherent risks, make it imperative that action be taken to ensure that in future, safety indeed comes first.
-- Eleanor Bloxham is CEO of The Value Alliance and Corporate Governance Alliance, a board advisory firm.