Is BP a Buy? Wall Street isn't sure.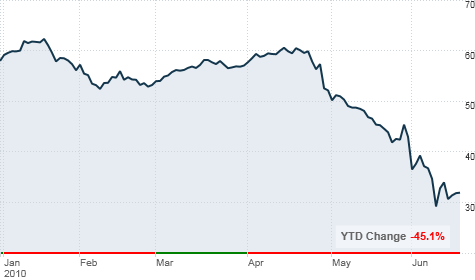 FORTUNE -- Simply put, the crisis in the Gulf is an environmental, political, and financial disaster. You will hear no argument on any of those counts here.
What you will get are short answers to two pressing questions about BP and a longer one to a third. Now that BP (BP) has suspended its dividend and agreed to set aside $20 billion for costs relating to the spill, it's time to determine what the future might look like for the embattled oil giant. And who else to ask but Wall Street?
Without further ado:
Should BP fire CEO Tony Hayward for his seeming inability to ever say the right thing?
They could, but it's not going to change anything. This thing was going to be a public relations debacle no matter who was at the helm, and Hayward's worst utterances have merely been the expressions of a human under great stress. The company will pay for its mistakes; of that there is no doubt. Hayward is paying his own price as we speak. So ends his corporate career. He will soon be a "consultant." (See also Tony Hayward's greatest gaffes)
Does the whole brouhaha over the fact that BP is a British company mean that we're headed for a political freeze-out between the citizens of Empire Past and those of Empire Present?
No, it does not. That's all sound and fury, and should be ignored. Or watched for pure entertainment value: the Brits haven't felt so relevant in years, so let's let them vent away about the outrage of it all.
Most importantly, is it time to buy BP stock, now that it's down more than 50 percent since the disaster?
Ask ten Wall Street analysts, and they'll give you ten different answers. Estimates of the ultimate liabilities to BP from the oil spill range from $30 billion to nearly $100 billion. That's an extremely wide range, with a similar variance in whether it's the right time to stock up on some BP shares for your portfolio. (Several analysts have taken to putting a value on the company's US operations, with the suggestion that they might lose them in their entirety. That seems unlikely.)
So who thinks that BP shares are a buy at Wednesday's price of $31.85?
Fadel Gheit of Oppenheimer does. He states it baldly: "We believe the upside potential from current price levels is significantly greater than any further downside risk from the oil spill." There you have it. Fred Lucas of J.P. Morgan (JPM, Fortune 500) is equally forceful, writing that, "BP continues to trade at less than half our sum-of-the-parts value."
Mark Fletcher of Citi Investment Research is also bullish on the stock. "We are buyers of BP," he writes. "The...price will likely continues to whip saw on speculation until the company can kill the leak, clean up the damage and give more certainty around the costs. However, we still believe the...price discounts pessimistic cost outcomes rather than most likely case outcomes."
Good on you, Mr. Fletcher, for following through to the logical conclusion of your analysis. (We are assuming he is British.)
And then there are those who can't muster as much conviction, despite the fact that most of them think that the share price movement has been overdone.
Morgan Stanley (MS, Fortune 500) goes all wishy-washy on us. Analyst Theepan Jothilingham calls it a "cheap" stock, but prefers Total, another mega-cap oil company. That's called trying to have it both ways.
Likewise, Lucy Haskins of Barclays Capital. She sees potential upside of 56% from current levels, but cannot summon the necessary courage to call it a buy.
Societe Generale can't step up either. "Despite the depressed price, a better opportunity to buy the share is likely to arrive over the coming weeks and months, we believe." Sounds like a sell rating to us, but Soc Gen calls that a hold. Maybe it's lost in translation.
The most remarkable holdout from what could prove to be the trade of the year: Goldman Sachs (GS, Fortune 500), supposedly the swashbucklingest firm on Wall Street. Goldman has a 12-month price target of $53 on the shares - that's more than 75% above current levels - but analyst Michele della Vigna just can't pull the trigger on calling it a buy, instead sticking with the lukewarm rating of neutral. The stated reason: "uncertainty."
One wonders whether Goldman's proprietary traders lack such clarity.