Dallas: Fastest growing U.S. city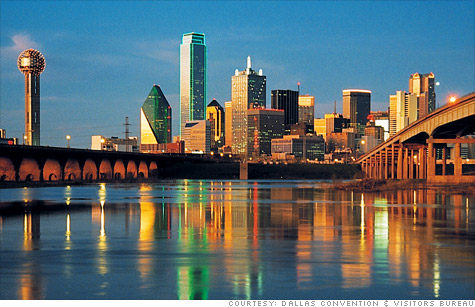 NEW YORK (CNNMoney.com) -- The booming Dallas-Fort Worth metropolitan area added more residents during the past decade than any other city in the United States.
According to the latest Census Bureau figures, the population of the sprawling Texas metro area grew by about 1.3 million people, or 25%, between April 1, 2000, and July 1, 2009.
The population is now estimated at 6.5 million residents, but an exact count won't be available until the 2010 census is complete.
The Palm Coast metro area in Florida had the highest percentage increase in growth. Its population exploded by 84% over the nine-years-plus covered by the Census Bureau report. But even after the jump there were only about 92,000 people living in the area.
Dallas's attractions include a very favorable business climate, according to Mayor Tom Leppert. There's no corporate income tax, building costs are relatively reasonable and regulations are minimal.
"It's a great place to do business," he said, "especially attractive for companies from high-tax states."
Helping to drive growth is the area's main airport, Dallas/Fort Worth International, the third busiest in the nation. Its location is far enough south to ensure good weather yet central enough to make it easy to fly to the Northeast, the Midwest and the Pacific Coast. It is also well positioned for air traffic with Latin American markets.
"Dallas has no port," said Leppert. "The airport became a 21st century port."
What it has lacked in the past -- a vibrant downtown -- is starting to develop. Recent additions include a huge new arts center, urban park, light rail system and new housing. These have bolstered the city's density and made downtown more interesting and fun.
That said, the metro area's suburbs are booming as well, according to Leppert. Indeed Rockwall County, northeast of Dallas, is one of the 10 fastest growing counties in the nation.
The Palm Coast story
A different dynamic has boosted Palm Coast numbers. Development in the area was originally promoted by ITT Corp., which presented it as a retirement community, according to Palm Coast City spokeswoman Marsha Lidskin.
It remains largely an area of retirees, but some of their kids and grandkids have decided to move there as well.
"I moved here myself, from Chicago," said Lidskin. "This is the most beautiful, unknown part of Florida. Drive up [highway] A1A along the coast and all you see are beautiful beaches. There are no high-rises or strip malls."
Palm Coast is a throwback to old Florida, before the post-war population boom made it the fourth largest state by population and permanently altered much of its pristine natural beauty.
The area is, however, no hotbed of employment opportunities. The biggest private employer, Palm Coast Data, a magazine and membership fulfillment company, has fewer than 1,000 workers.
The metro area unemployment rate in April was a stratospheric 15.4% and the housing market has plunged since the bubble burst. Average home prices in Palm Coast have fallen by about half to less than $120,000 since the peak in early 2006, according to the real estate website Zillow.
Other big winners
Of course, the census count is more than just an academic exercise created to please number freaks and provoke outbursts of civic pride in the winners and shame in the laggards.
"Census numbers govern the distribution of more than $400 billion in federal funds each year," said Census Bureau director Robert Groves. "Local governments use census data to plan new roads, schools and emergency services. Businesses use the data to develop new economic opportunities."
That means other big population gainers stand to cash in. Atlanta added more than 1.2 million people; Houston grew by 1.15 million; Phoenix recorded a 1.11 million-person jump; and Riverside-San Bernardino, Calif., saw 900,000 more residents.
Percentage-increase leaders were St. George, Utah, which leaped 52% to nearly 140,000; Provo, Utah, which grew by more than 47% to 555,000; Raleigh, N.C., which jumped 41% to nearly 1.13 million; and Greeley, Colo., where the population soared 41% to 255,000.
The decade's biggest loser both by percentage and numerically, was New Orleans. The city was devastated by Hurricane Katrina and has been in recovery mode ever since.
Its metro area population is still down more than 126,000, off nearly 10% from its pre-storm status.