Rivals target Nintendo's aging Wii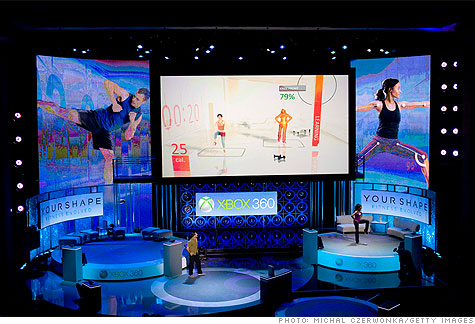 NEW YORK (CNNMoney.com) -- Microsoft and Sony have set their targets squarely on Nintendo -- and the casual gamers that made the Wii the most successful video game console of its generation.
At the Electronic Entertainment Expo in Los Angeles last week, Microsoft (MSFT, Fortune 500) unveiled Kinect for the Xbox 360 and Sony (SNE) previewed Move for PlayStation 3. These console accessories will add motion-capture capabilities to their respective systems. That's the feature that made Nintendo's Wii an instant hit.
The PlayStation 3 and Xbox 360 have been popular with so-called "hardcore gamers," but the Wii broke through to non-videogame enthusiasts. It's been adopted by parents, young children, and even people in retirement homes. Last year, Nintendo sold 22.8 million Wii consoles, blowing away its competition: Sony sold just 12.4 million PlayStation 3 consoles, and Microsoft sold 10.7 million Xbox 360s.
But Nintendo's sales have slipped since the Wii's 2006 debut, and the gap between the Wii and its rivals has started to narrow.
With the Move and the Kinect, which will both be available this fall, Sony and Microsoft are looking to capitalize on that momentum and draw in the kinds of customers that would have otherwise bought a Wii.
These new add-ons "will breathe some new life into the game console market," said Pamela Tufegdzic, consumer electronics analyst at iSuppli Corp. "Kinect and the Move will attract the casual audience, enabling the two traditional hardcore platforms to gain market share from Nintendo."
What's new
Microsoft's Kinect uses facial recognition and motion capture technology so that game players do not require a controller. Sony's Move will require players to use a Wii-like controller, but Sony says its system is far more precise than Nintendo's.
Experts say the advantage for Microsoft and Sony is that unlike Wii, which really was only popular among casual gamers, hardcore gamers and casual players alike will be fans of the new systems.
The precision of Sony's Move and the ability to employ the button combinations that gamers love will attract both kinds of gamers to the PlayStation 3. And though Kinect is targeted at casual gamers, the Xbox 360 is the elite gamer's console of choice.
"Microsoft is trying to branch out a little bit from its hardcore focus, and Sony has always been positioned to be family friendly with its software lineup," said Louis Ward, consumer market research manager at IDC. "Microsoft and Sony are trying to strike the right balance."
Meanwhile, for the Wii, Nintendo unveiled ... nothing. Silence. Crickets. The company has dropped hints that it would like to bring 3-D gaming to its console, but that kind of breakthrough is years away.
That leaves Sony and Microsoft touting hot new technology, while Nintendo's ages. Analysts think the underdogs will charge into the gap.
"The Wii phenomenon is a done deal," said Van Baker, an analyst at Gartner. "Nintendo is not in the position it has enjoyed in the past."
Nintendo still has lives left
Still, it would take a tremendous resurgence for Sony and Microsoft to overtake Nintendo's sales next year.
Nintendo just unveiled some new classic video game titles like Tetris, Metroid and Super Mario for the Wii, which experts say will help Nintendo keep its edge over its rivals for a while. At the same time, Sony and Microsoft will only have a handful of video game titles for the Move and Kinect during the coming holiday season, since they have to convince developers to create games for their new, very different systems.
"Sony has a larger software development pool, but Microsoft has to cajole more third-party developers to create something that's completely different," said Ward. "How it's implemented matters a lot. The outcomes won't be decided purely on technology, but on execution."
Price will also be a factor. The Wii costs just $200. The Kinect-ready Xbox 360 and PlayStation 3 start at $300, plus the cost of their attachments. The Kinect will sell for another $150, and several news reports say the Move controllers will be priced at $50.
Even if the Move and Kinect surprise analysts and quickly outpace Wii sales, Nintendo won't be sweating too much. The Wii is a cash cow for the company. Unlike Sony and Microsoft, Nintendo turned a profit on every Wii sold from day one.
Nintendo opted not to include state-of-the-art graphics technology in the Wii, focusing instead on growing its customer base by offering innovative features and simple games. In contrast, Sony and Microsoft followed the traditional video game business model, loading their consoles with bells-and-whistles and taking a loss on every Xbox and PlayStation sold. The companies planned to make up for that loss with licensing royalties levied on video game makers, but it has taken years for them to turn a profit.
Nintendo's sizeable cash cushion gives it an ability to absorb the ensuing Wii sales decline as a result of the Move and Kinect debuts, Baker said.
"The Wii has been a very, very profitable business," he said. "Nintendo can continue to milk it for a while."
But "a while" has a deadline in sight: 2012 or 2013. That's when the next generation of consoles come to market -- and then, it's anyone's game.
"The console refresh is a very dangerous time," Baker said. "Sony outright owned the market last generation, and now it is in a distant third place. It's going to be a challenge for Nintendo to maintain its position when the new systems are unveiled in another holiday season or two."