Planning for the care of a special-needs child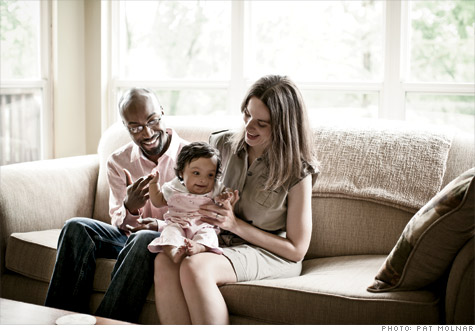 (Money Magazine) -- Jason and Amanda Purnell met while getting their Ph.D.s in psychology at Ohio State, married in 2007, and were ecstatic when Amanda became pregnant shortly before they moved to St. Louis last July to be near family. Then they learned that their 22-week-old fetus had Down syndrome. They were shocked -- at 29, Amanda was well below the at-risk age to conceive a baby with this condition. "The first 24 hours, I was inconsolable," she says.
But Amanda, a psychologist at a VA medical center, and Jason, an assistant professor at Washington University, didn't dwell for long on the difficulties they might face raising their coming child but instead kicked into high gear to do right by her. By the time Maya Elizabeth was born last December, her parents had found a day-care center that provides physical and speech therapy, drawn up wills and powers of attorney, and taken out $1.6 million, 30-year term life insurance policies. They set up a trust as the beneficiary because if Maya has more than $1,000 in assets when she turns 18, she'll lose eligibility for some government benefits.
Maya is now 6 months old, healthy, and a sound sleeper. But the Purnells have plenty of worries to keep them up at night. Many children with Down syndrome eventually require surgery for heart or gastrointestinal problems or have developmental delays. Jason and Amanda also worry about money.
Even though they have a combined income of $177,000, they're facing a rash of expenses: There's the usual (payments on their $261,000 mortgage, $37,000 in student loans, replacing their 10-year-old cars), plus Maya's special needs (medical bills not covered by insurance, possibly private school when state subsidies for her therapies end at age 3). "We know we'll be financially supporting Maya for the rest of our lives," Jason notes.
The Purnells have made a great start by setting up wills and a trust for Maya, says St. Louis lawyer Martha Brown, part of a network of attorneys called the Special Needs Alliance. They should also write a memo, called a Letter of Intent, that details instructions for her care, from the food that she eats to the therapies that work best. "Think of it as a road map of Maya's life that will ensure she's well cared for," she says. As for the Purnells' finances, planner Michael Byrne of Cherry Hill, N.J., who has a daughter and two brothers with special needs, suggests the following:
The fixes
1. Set up a second trust
The trust drawn up by the Purnells won't become operational until after they both pass away. So family and friends who want to contribute to Maya's care should put money into a separate special-needs trust to fund nonessentials (say, dental bills or trips to Disney World), says Brown. That way, Maya doesn't risk losing federal disability benefits.
2. Ramp up savings
Jason and Amanda need an emergency fund of $42,000, vs. the measly $4,000 they have now. Once that's taken care of, they should begin a "reserve fund" to pay for big-ticket nonemergency extras, including new cars and possible private-school tuition for Maya, says Byrne. The interest rate on their student loans is only 5%, so they can pay them off gradually.
3. Plan for three retirements
The Purnells must become hypersavers to cover their retirement as well as Maya's long-term care. Amanda's raises should go into her Federal Thrift Savings Plan, currently funded at 5% (just enough to get the match); Jason should do the same with his 403(b). An aggressive 80% stock/20% bond mix should maximize their returns over time.
Do you need money help? Post your video on iReport and tell us why you deserve our next Money makeover.
Do you have an 800-plus credit score? Or have you pulled your score up past 700 after a financial setback? If you'd like to talk about it for an upcoming issue of MONEY magazine, send your name, age, phone number and a few details about your story to imangla@moneymail.com.