BP stock punished, hits new low
NEW YORK (CNNMoney.com) -- BP's stock price hit a new low Thursday, amid a sell-off in the broader equity markets, as investors remained wary about the Gulf of Mexico debacle and strength of the economy.
The troubled oil giant's stock fell 3.1% to close at $28.74 a share. It fell to a low of $28.56 in the day, piercing the 52-week low set on June 9. The stock is now down 52% since April 20, when its Deepwater Horizon oil rig exploded off the coast of Louisiana, killing 11 workers.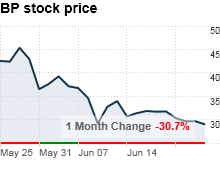 Although the U.S. stock market slumped Thursday on the heels of disappointing economic news, energy stocks were battered.
"The entire energy group isn't faring well," said Art Hogan, chief market strategist at Jefferies & Co. "There's a lot of rhetoric around the costs to BP (BP) and the rest of those involved (in the oil spill), and estimates for cleanup and litigation seem to keep going higher."
Hogan added that uncertainty around the moratorium on offshore drilling is also weighing on the stock.
Global equity markets have struggled in recent sessions, but BP's stock held steady, buoyed by the company's decision to suspend its dividend for the remainder of the year and the removal of CEO Tony Hayward from day-to-day leadership of the cleanup operations.
Some analysts have called the stock a 'buy,' even after recent downgrades by credit rating agencies and a pending lawsuit from one of the largest public pension funds in the United States, saying that its financial resources outweigh the potential cost of the oil spill.
The company has agreed to set aside $20 billion in an escrow account for spill-related costs, a sum that does not cover fees and penalties that could be imposed by the federal government.
On Monday, it said it has so far spent $2 billion to clean-up its mess in the Gulf. That price tag is likely to soar as it pays out spill-related claims and faces a legal tangle.
"Uncertainty will cause the energy space to have an overhang" for some time, said Hogan.