Who's profiting from the spill?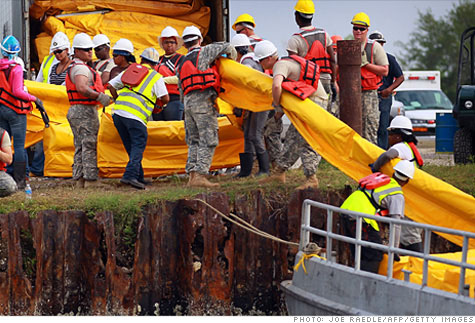 FORTUNE -- It's six o'clock on a sticky Louisiana morning when Captain Peace Marvel takes the day's first BP-related call. His job: Match out-of-work captains of charter fishing boats with scientists needing a lift to the oil slick. A captain himself, Marvel, 43, is now working 18-hour days at his one-month-old company, PeaceKeeper Logistics, which he set up to win work from BP. "When we realized the scope of the spill, it was the only thing to do," he says. "All I'm handling is one little piece of the pie."
It may be one little piece, but it's an ever-growing pie. The largest oil spill in U.S. history is also one of the most expensive cleanup projects ever -- which means that money is being made as well as lost. BP (BP) has already spent more than $1 billion; that's a rate of $25 million a day. If the process continues for the next six months, the total cost could be at least $7 billion, predicts Morgan Stanley analyst Theepan Jothilingam.
So who is poised to profit? Start with a $1.7 billion-in-sales company called Seacor Holdings (CKH), based in Fort Lauderdale. After the Exxon Valdez spill and the subsequent Oil Pollution Act of 1990, government-mandated readiness plans made oil-spill response a lucrative business. Seacor has seven subsidiaries active in the gulf; its nonprofit rival, the Marine Spill Response Corp. -- funded by a group of Big Oil and shipping companies -- has 7,000 people at work. Seacor's helicopters ferry Coast Guard personnel over the marshes. Its 200-foot ships transport supplies. At subsidiary O'Brien's Response Management, consultants work with BP at command posts. "It's a 24-hour coordination," says Eric Fabrikant, 29, Seacor's vice president. Seacor won't talk about the cleanup's impact on profits, but Tim Parker, an energy analyst at T. Rowe Price, says it could be more than $10 million.
Nalco (NLC), the Illinois-based water treatment firm, has sold more than $40 million of its oil dispersant Corexit. Clean Harbors (CLH), a Massachusetts disaster-response company, expects second-quarter sales to jump 15% to 20%, or up to $70 million. Procter & Gamble (PG, Fortune 500) shipped 7,000 bottles of Dawn dish soap to clean animals, then promoted its efforts nationally. And on May 25, the SEC halted trading in ACT Clean Technologies to investigate its statements about BP's interest in its technology, which boosted the penny stock 2,000%.
At a Venice, La., marina, Lee McLean is a captain working with BP. He's earning double his usual day rate of $1,200 and grins when he says, "I want to know how long this faucet stays on." Looks like a very long time.