Thousands flock for iPhone 4 debut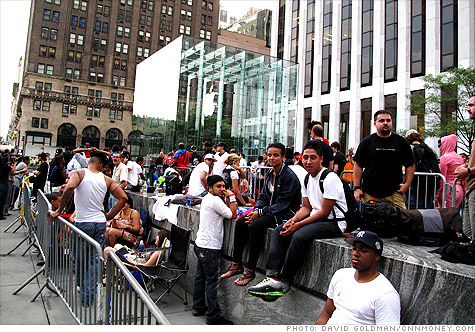 NEW YORK (CNNMoney.com) -- They call it the Jesus Phone, and the scene outside Apple's New York City flagship store did have something of the air of a religious event on Thursday.
An hour before the iPhone 4 was slated to go on sale, more than 600 aspiring buyers filled the plaza outside the iconic Fifth Avenue glass cube -- and a line of hundreds more stretched on behind them, filling an entire city block. Passersby chattered with the gathered throngs while marketers circled: AOL (AOL) earned fans by handing out 500 Magnolia Bakery cupcakes. Vuvuzelas blared, and the crowd cheered and applauded as opening hour neared.
Nine hours later, the plaza was still full of waiting customers and the line continued back a block. An Apple Store employee said the line was three to four hours long, but for those willing to brave it, iPhone 4s were still available -- even for customers who did not pre-order their phones.
That wasn't the case at another Apple Store just a few blocks away. The 62nd Street location sold out of the iPhone 4 for walk-in customers around 2 p.m., disappointing a similarly long line of customers.
Those who pre-ordered their phones earlier this month were able to pick them up starting at 7 a.m. But with Apple's pre-sale inventory sold out until August, braving an epic line is one of the only ways to get hold of the coveted gadget.
New York resident Joe Duffy, 43, turned up at the flagship 4 a.m. to join the line, snagging one of the last spots on the barricades outside the store's door.
"I knew it would sell out and be really popular. I'm lucky to get the spot I did," Duffy said. His "lucky" spot had him behind more than 500 other shoppers hoping to snag one of Apple's (AAPL, Fortune 500) limited supply for walk-in customers.
Nearer to the front of the line, a mere 200 or so back, Karl Kozma clocked his 27th hour on line. But the wait would be worth it, he vowed. He likes the iPhone 4's improved screen resolution and speed.
"Steve Jobs is a marketing genius. He sold me on the look and style and FaceTime," Duffy said, referring to the new phone's video-calling app.
This will the fourth iPhone for Duffy, who has faithfully upgraded every year when the annual release hits. But this one blows past its predecessor, he said: "The phone has double everything that the 3GS has."
Minutes after 7 a.m., Evan Wiendczak became the first customer to leave the store with a phone. His plan for his new device's maiden voyage: "I'm going to call my mother," said the Boston resident, 18. "She's the most important person in my life."
Wiendczak had pre-ordered his phone, staying up all night and battling system crashes for four hours before successfully completing his order. Even though his phone's arrival was guaranteed, Wiendczak queued up at the Apple store to ensure he would get it first thing. He waited 48 hours.

At an Apple store in Atlanta, college student Seth Herren also logged two full days in line awaiting a phone.
The scene was a stark contrast just a few blocks away, at other retailers on the periphery of the iPhone 4's debut. A nearby AT&T store, which opened at 7 a.m. so customers with pre-orders could pick them up, had no one waiting.
The first iPhone customer, Mani Haque, walked in 10 minutes after opening. He pre-ordered his phone through the store last week (after trying, and failing, to complete an order on AT&T's crashed website), and was told it would arrive at 3 p.m.
Haque turned up eight hours early, having heard that some shipped iPhones were already in customers's hands, but he didn't score: The store told him to come back in the afternoon.
Others who arrived without pre-orders also left empty-handed. AT&T said it won't start selling the iPhone 4 to walk-in buyers until June 29, and it stuck by that statement Thursday morning. Customers who turned up seeking one were set away. (For more on the iPhone supply shortage at other retailers, click here.)
Some iPhone 4 buyers managed to snag their coveted devices early: FedEx shipments began arriving as early as Tuesday. CNN iReporter Keith Taylor, 23, got his in the mail Wednesday and promptly used the gadget's front-facing camera to shoot a short video review.
"The FedEx driver walked in with a big smile on his face and asked, 'Who do you know at Apple? This is the only one on my truck today,'" said Taylor, a resident of Sarasota, Fla. "Needless to say, I was pretty excited when it arrived before most of the known worlds'."
So far, he's thrilled with the phone's upgrades. "I'm amazed at the difference in resolution," he said. "Even text message print is so clear. It's like reading from a Kindle or e-reader."
Some iPhone buyers haven't been as pleased: Within hours of the first phones reaching users' hands, blogs began fielding complaints about screen glitches and reception problems.
-CNNMoney.com staff reporter Hibah Yousuf contributed to this report.