$5 billion for the uninsured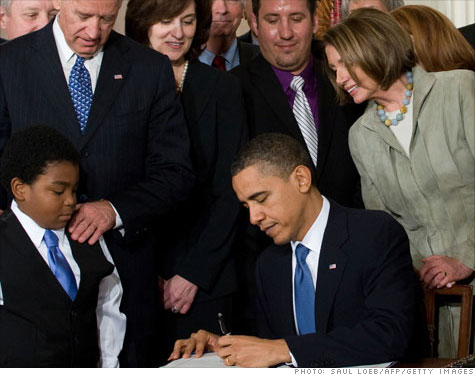 NEW YORK (CNNMoney.com) -- Starting Thursday, the Obama administration will dole out $5 billion to states to provide insurance for people who don't have coverage because of pre-existing medical conditions.
It's the largest program to be implemented so far under the sweeping health care reform signed by President Obama in March.
Millions of people are denied health insurance because of a pre-existing condition, such as heart disease or asthma, according to the administration's health reform website.
Many states already fund their own programs to help people with pre-existing conditions get insurance. The federal program will make such coverage available nationwide.
The U.S. Department of Health and Human Services said that 30 states and the District of Columbia will use the money to create new high-risk pools or supplement existing ones. The remaining 20 states chose not to participate, so HHS will run those programs through a private third-party administrator.
Individuals who have been uninsured for at least six months and have a pre-existing health condition can qualify for coverage. By law, the premium can't cost more than the state's average rate for individual plans.
The program is meant to last until Jan. 1, 2014, when the reform law will require insurance companies to cover adults regardless of any pre-existing conditions. But the federal funding will be exhausted before 2013 if more than 200,000 people participate, the Congressional Budget Office estimates.
By 2013, CBO expects enrollment to swell to 700,000 and federal spending to reach as much as $15 billion.
Setting up the state pools: How the new federal mandate gets implemented will vary. States can choose either to set up a new high-risk pool; build upon an existing one; contract with an insurance carrier to provide subsidized care for eligible residents; or do nothing.
If a state chooses not to participate in the program, HHS will run its own coverage in that state so all eligible residents will have access to a plan.
Whom the pools will help: Last summer, HHS cited a survey that said 12.6 million people were discriminated against in the past three years because of a pre-existing condition. That's 36% of all people who tried to buy their own insurance plans.
The study said insurance companies told those patients they were ineligible for coverage; charged them a higher premium; or refused to cover their condition.
A separate 2009 study cited by HHS said 1 in 10 cancer patients couldn't get health coverage, and 6% said they lost their coverage because of their diagnosis.
How the funds are allocated: The $5 billion will be divided among the states according to a formula that takes into account several factors, including population size, the number of uninsured and geographic costs.
After two years, HHS will reallocate the funds. Currently California is slated to receive the most money, at $761 million. By contrast, North Dakota, Vermont and Wyoming will each get the smallest amount: $8 million.